U.S. president-elect Donald Trump has called out one of the world's biggest manufacturers in an aggressive tweet, targeting its plans to outsource production to Mexico.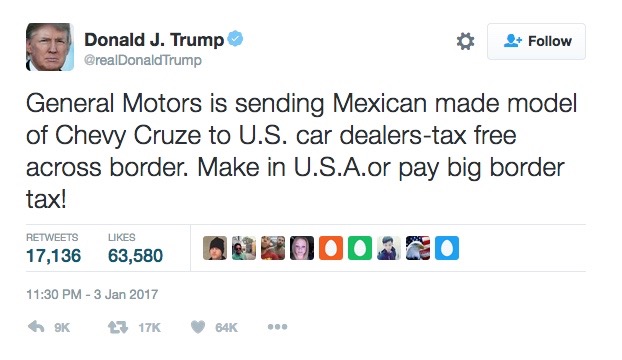 President-elect Trump purported that General Motors is constructing the latest-generation Cruze in Mexico (which it is for other global markets) and ships them to U.S. dealerships, tax free. Trump responded in his most characteristic of fashions, via Twitter, blasting GM with a somewhat true, somewhat false, and of course threatening, tweet. Trump tweeted:
"General Motors is sending Mexican made model of Chevy Cruze to U.S. car dealers – tax free across border. Make in U.S.A or pay big border tax!"
General Motors was quick to issue a response, clearing up the fact that Chevrolet Cruze sedans sold in the U.S. come from its own facility in Lordstown, Ohio. However, "GM builds the Chevrolet Cruze hatchback for global markets in Mexico, with a small number sold in the U.S.," it said.
What makes this even more interesting is the fact that one of the additions to Trump's Strategic and Policy Forum team is none other than chairperson and CEO of General Motors, Mary Barra. Others on the list include Tesla's CEO Elon Musk, and Uber's CEO Travis Kalanick.
According to GM spokesperson, Pat Morrissey, who spoke with Motor1, Chevrolet shipped 171,552 units of the Cruze in the U.S. between January and November, 2016. In that same period, the manufacturer sold less than 5000 units in the US specifically, meaning Trump is threatening one of the country's most influential manufacturers over around three per cent of Cruze deliveries in the U.S.
Trump has threatened to throw out the existing North American Free Trade Agreement in favour of tariffs as high as 45 per cent on products produced in Mexico and shipped into the U.S., in an attempt to recapture America's once-thriving manufacturing scene.