You may think the base model 3 Series is a bit of a slouch when it comes to engine power and acceleration, however, the new 2012 BMW 320i (F30) aims to change all that with the help of a feisty turbocharged engine under the bonnet – a first for a base model petrol 3 Series.
The new model gets more technology and improved efficiency, while the styling has been honed for a sleeker and more aerodynamic look.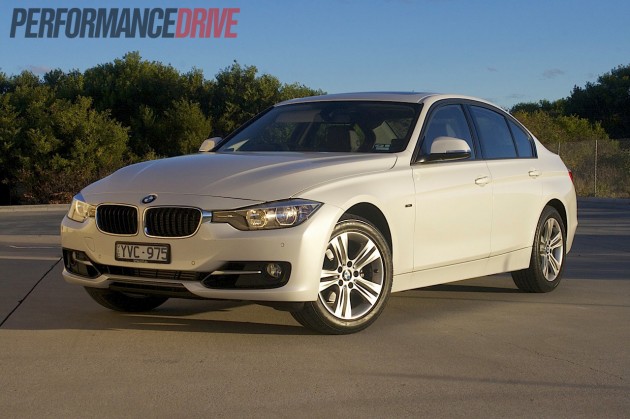 2012 BMW 320i SPORT LINE – PROS AND CONS
PROS:
Lots of technology to optimise performance and economy
Sports suspension is comfortable yet very supportive during spirited driving
Modern interior with lots of gadgets
The sweetest handling and steering in this segment
CONS:
Options list is quite lengthy
Buzzing 2.0-litre engine sound not all that appealing from inside the cabin
ECO PRO, Comfort, Sport, Sport + driving modes; no 'normal' mode
2012 BMW 320i SPORT LINE – OVERVIEW
Every new 3 Series in the range is now turbocharged. In fact, almost every single production car in BMW's showroom features a whistling 'snail' under the bonnet.
The technology is applied for a number of reasons, but mainly so BMW can keep its industry-leading low overall emissions down, and to accommodate environmental and economic demands. For us motorists, if it means easing the pain of ever-increasing fuel prices, all the better.
Not only are turbocharged engines more economical these days, their power delivery is becoming more and more linear, like a naturally aspirated (NA) engine. It's to the point where the term 'turbo-lag' is almost a phrase of the past. The bonus upshot for us performance enthusiasts is these new engines also offer more power and lots more low-down torque than an equivalent NA.
With the new 320i, that's exactly what BMW has achieved. The new model is 20kW more powerful than the predecessor and it offers 70Nm more torque. The increased grunt comes from the company's new 2.0-litre N20 turbocharged four-cylinder engine producing 135kW and 270Nm.
Peak power is achieved at 5000rpm, while peak torque is available from just 1250rpm up until 4500rpm. This means there's always plenty of oomph ready to be dispensed at the flex of your ankle. The engine still encourages you to rev on towards the red section of the tacho too, like a true sports sedan should.
The 2012 F30 3 Series rides on a more rigid body compared with the predecessor. It's up to 26 per cent more rigid in fact, providing even more directness and more enjoyable handling.
All models in the 3 Series range, including the 318d, 320d, 320i, 328i, and the top-spec 335i, are available with three different options packages. You can simply buy a bog-standard version, however, BMW has compiled a range of 'meal deals' together to make the buying and customising process easier. There's the Modern Line, Sport Line (as tested), and the Luxury Line.
On the 320i, the Sport Line costs an extra $4100 on top of the standard car's $57,600 price tag, while the Modern Line is $3100, and the Luxury Line is also $4100. Each showcase various trimmings and highlights to suit the theme.
2012 BMW 320i SPORT LINE – START UP, REV, AND ACCELERATION VIDEO
2012 BMW 320i SPORT LINE – ACCOMMODATION AND EQUIPMENT
With the Sport Line, as you might have guessed, you get an overall sporty personality which can be witnessed inside and out.
The first thing you'll probably notice on the inside is the red dash divider which runs along the centre, and the various red-stitched leather features, such as the bolstered sports seats and sports steering wheel.
On the outside, the 320i Sport Line comes with 17-inch alloy wheels, 'Sport' badges on the front guards, and various chrome black highlights such as the exhaust tip and the iconic kidney grilles in the front end.
You can also option up for extra equipment on top of the respective Lines, with features such as M Sport suspension for another $800 (as tested), and up to 18-inch alloy wheels for $1300. A set of black side mirrors are also available at no cost.
Options aside, the interior of the new 3 Series is a decent step up from the previous model. It offers a well executed blend of sophistication and class, without being too complicated.
The dash design flows elegantly across your view providing a nice calming mood, while that perfect driving position can be found very easily using the power front seats. The driver's seat can be lowered right down for that real hunkered down race-car feel as well, in typical 3 Series form.
In terms of standard kit on the Sport Line, you get a 6.5-inch colour display with a six-speaker stereo, and BMW's new, more user-friendly iDrive 'mouse' and button system. The iDrive rotary switch on the centre console now features quick jump-to menu buttons for easy selections. Satellite navigation is an optional extra; 'Business' for $2000, or 'Professional' with an 8.8-inch screen for $3500.
Park Assist and a reverse camera are also optional, which is a bit disappointing on a vehicle with this price tag. The camera adds $1000 to the overall price, or $700 for Parking Distance Control (as tested).
2012 BMW 320i SPORT LINE – DESIGN AND SAFETY
The F30 is 93mm longer than the previous E90 3 Series sedan, while its height is slightly increased as well, by 8mm. As a result of this, along with other changes, the kerb weight has increased by 35kg (1425kg over 1390kg).
It's amazing to think that even with loads more technology, and the inclusion of more computers and complex luxuries and features, the base model 3 Series has only put on 100kg since the E36 model from way back in the 1990s. It's also only 200kg heavier than the model before that, the E30 3 Series which was renowned for being extremely lightweight and agile.
The front end of the new model is quite sharp, blending in characteristics also seen on the BMW Z4 sports roadster. There's crisp headlights with silver 'eyelids', and lots of intricate details in silver and black in the lower bumper bar.
At the back the F30 shows off some moderately pumped out wheel arches, making it look a lot like the current model 5 Series. The taillights receive a minor update, while the rear bumper bar is fuller and colour-coded all the way down to the bottom. There's also some new reflectors in the bar to further distinguish it from the E90.
Overall, the front end looks very low slung and sporty. It does seem to be a tad inconsistent with the main 'torso' of car around the passenger compartment, although, BMW purposely wanted to make the front guards lower and more curved off for the sake of improving aerodynamic efficiency.
Take a look at the interesting video below for a quick overview of how the 3 Series has evolved in terms of design and function.
As for safety, the F30 3 Series has been awarded five stars by ANCAP after strict crash testing. It comes with switchable traction and stability control, as well as automatic headlights, eight airbags, and something BMW calls Active Protection. Active Protection is capable of tensioning up seat belts and closing all windows by itself if the on-board computers feel an accident is imminent.
2012 BMW 320i SPORT LINE – ON THE ROAD
If you smash the throttle off the mark, wheelspin can be achieved in the 320i. This might sound like a silly and rather crude way of evaluating a vehicle, however, we want to bring this up to give you an indication of how far the performance and acceleration of the base model 3 Series has come.
Compared with the predecessor 320i, the new F30 320i has an official 0-100km/h time of just 7.6 seconds (we tested 7.5) while the old model managed it in a pretty ordinary 10.4 seconds. This is a huge improvement. It's only 0.5 seconds behind a Volkswagen Golf GTI.
Out on the road the new 320i never feels like it's lacking in power, in fact, you can tell the engine has more to give; the same engine, albeit with a different turbo and compression ratio, is featured in the 328i with 180kW/350Nm (full review coming soon). In other words, steep hills needn't be avoided anymore, even if you are carrying a full load.
The TwinPower variable geometry turbo means there's plenty of torque available virtually all the time. When the torque peaks at 4500rpm, peak power is just 500rpm away to pull it the rest of the way up to the 6500rpm redline.
For us driving enthusiasts, the engine provides exciting point-to-point acceleration, with great pick up coming out from tight bends. It's also got plenty of top end when you're in between them, with the engine willing to keep on screaming as the momentum keeps building at a constant and consistent rate.
The engine doesn't sound all that appealing from inside the car, but with the window down you can hear the turbo whistling away, even giving off a little flutter on throttle lift. The engine noise is just a typical whining sound though, and not quite as sweet as you might be used to in a BMW. There is some bass from the outside carrying on the BMW trademark.
There's really not much to fault with the handling of the new 3 Series Sport Line, especially when fitted with the optional M Sport suspension. In Sport Plus mode, selectable via the Driving Experience toggle next to the gear lever (on all 3 Series variants), the 320i is like putty in your hands. It feels light, agile, and very playful. And in BMW spirit, very precise.
Sport Plus tells the on-board computers to tighten up the suspension, tweak the throttle response so it's more lively, and give the steering some more weight for a more aggressive feel. The dynamic stability control is also slackened off to allow some playful slip.
A factory strut brace at the front gives you an indication of the level of dedication towards maximising chassis rigidity. It doesn't mean the handling is so direct and focused that it becomes too sharp-edged though. Even when you are getting near the limits of tyre adhesion, it won't bite you in the back and instantly snap you into a slide. Instead, the tyres will gradually let go up to a very controllable point. But even just to get it to that point, you have to be really pushing it.
Speaking of the tyres, they're run-flat items. We feel they are a little soft in sidewall stiffness and they feel like they twist and squirm under swift directional changes. Other than that, the handling and chassis dynamics are brilliant – the 3 Series continues to lead the class in this department.
The M Sport suspension is wonderful. It's never bone-jarringly firm but it manages to absorb fast dips and bumps with utter compliance. The ride and general comfort around town is also top notch.
The same can be said about the brakes. After repeated abuse we experienced zero brake fade and no slackening of the pedal. We'd even go as far as saying they are some of the best brakes we've experienced in terms of relatively serious sports cars.
One of the best things about the new 320i Sport Line, we think, is the driving modes. While you're trundling along the boring freeway you can notch it into ECO PRO mode and save yourself a few litres in fuel. And it really does make a difference.
If you're hauling some family relatives around you can leave it in the default Comfort setting for a softer ride, and then when you're up for a back road blast, you can simply flick it into Sport Plus and you've got yourself a real driver's car that's always ready to play.
It's such a convenient and very handy tool to have on a car. It makes the vehicle much more versatile and adaptable to the driving conditions, and it improves the overall human-machine interaction.
2012 BMW 320i SPORT LINE – VERDICT
This is the most powerful, most economical, and the most technically advanced and aerodynamically efficient base model petrol 3 Series ever made. It's also the most powerful base model medium-sized premium sedan out of the two German rivals; Audi A4 1.8 TFSI (125kW) and Mercedes-Benz C 180 CGI (115kW) too.
It's both ready to take on some serious speeds and the twisty stuff (especially with the M Sport suspension), yet it's also very efficient and gentle at the petrol pumps. We averaged around 7.6L/100km on test, while the official average is just 6.0L/100km.
If all that is not enough of a reason to want to buy one then we don't know what is.
2012 BMW 320i SPORT LINE – THE COMPETITORS
Mercedes-Benz C 180 CGI – 1.8-litre turbocharged four-cylinder, 115kW/250Nm – $58,900
Slightly down on power compared with the BMW, the Merc does come with more standard kit though. It's consistently in the top two best-selling premium sedans in the segment.

Audi A4 1.8 TFSI – 1.8-litre turbocharged four-cylinder, 125kW/320Nm – $55,500 (auto)
The only front-wheel drive in this bunch. It's super-economical, with a combined cycle consumption rating of just 5.7L/100km.

Lexus IS 250 F Sport – 2.5-litre V6, 153kW/252Nm – 1560kg – $66,800
It's the oldest in this segment but still a favourite. And for good reason. It's silky smooth to drive with nice steering and plenty of technology. New model to arrive 2013/2014.

2012 BMW 320i SPORT LINE – SPECIFICATIONS
MODEL
2012 BMW 320i (F30) Sport Line
ENGINE
2.0-litre turbocharged four-cylinder petrol with direct injection and variable geometry turbo
ENGINE SIZE / COMPRESSION RATIO
1997cc / 10.0:1
BORE X STROKE
84mm x 90.1mm
POWER
135kW@5000rpm, 270Nm@1250rpm-4500rpm
POWER TO WEIGHT RATIO
10.5: 1 (kg:kW)
KERB WEIGHT
1425kg
HEIGHT / WIDTH / LENGTH
1429mm / 1811mm / 4624mm
DRIVETRAIN
Eight-speed automatic transmission with Sports mode and paddle shifters, rear-wheel drive
BRAKES
F: Ventilated discs
R: Ventilated discs
WHEELS / TYRES
F and R: 17-inch, 225/50 R17
FUEL TANK CAPACITY
60 litres
FUEL TYPE
95 RON
FUEL CONSUMPTION
Tested average: 7.6L/100km
Official average: 6.0L/100km
PERFORMANCE
0-100km/h: 7.5 seconds (tested)
PRICED FROM
$57,600 (plus $4100 for the Sport Line pack)
WARRANTY
Three-year/Unlimited kilometres