The 2018-2019 Ford Ranger has been spotted out and about on the streets in Asia, revealing a new-look front end and some trimming updates for the first time.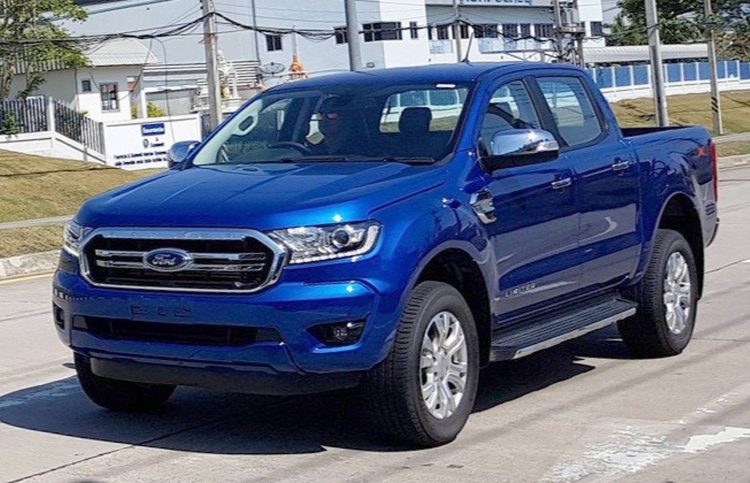 As previously suspected, the new Ranger will receive a twin-tier front grille design as seen on the latest Ford F-150 trucks from the US. The vehicle spotted here, thanks to Thai-based HeadlightMag, appears to be the equivalent XLT variant, sitting just below the top Wildtrak, as suggested by the chrome application around the front.
The front bumper bar is revised and now features some indentation around the fog light surrounds, with a long and thin intake running across the middle. You can also see the updated headlights with LED daytime running lights skirting around the lower edge and up to the bonnet line.
Some minor changes are made to the rear end by the looks of it, with new taillights featuring clear lenses as spotted in Australia a few months ago. There's also some chrome trimming for the rear bumper bar.
Ford will be launching the Ranger in the US this year, but so far it's unconfirmed if it will be the exact same spec as the Thai-built model that we get in Australia. Most speculation suggests it will be sold in the same or very similar specification around the world.
In terms of mechanical changes, the overseas 2.5-litre petrol four-cylinder is set to carry over in the same 129kW form, while the 118kW 2.2-litre turbo-diesel will likely remain untouched. However, there has been rumours that suggest the top models will drop the 3.2-litre turbo-diesel five-cylinder engine.
Replacing the 3.2 is set to be a more modern and more economical 2.0-litre turbo-diesel four-cylinder unit, producing slightly more power. The current 3.2 generates 147kW, but the new unit will apparently offer around 152kW. This is yet to be officially confirmed. There is also the chance a 2.0-litre unit will simply replace the 2.2.
More interestingly though, a 10-speed automatic will join the lineup, making it the first application of a 10-speed in the Aussie commercial vehicle segment. This combination should really help to improve fuel economy and performance.
A full debut might take place at the Detroit auto show later this month given the Ranger will be heading to the US market very soon. Australian market entry is tipped for the second half of the year, and it will be joined by the highly anticipated Ranger Raptor performance model.