The lightly facelift 2016 Mazda BT-50 will go on sale in Australia later this month, bringing a fractional price rise for most variants, along with added features and a tweaked design.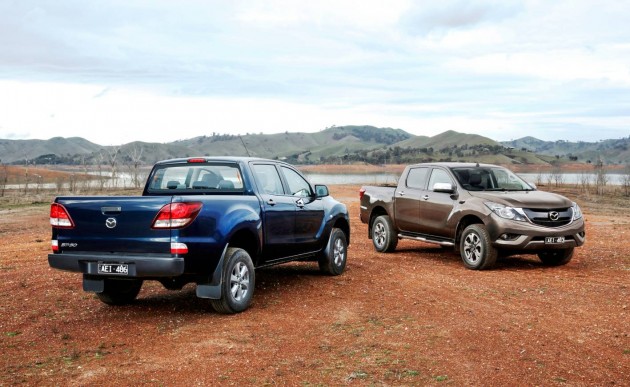 Only minor styling changes have been made to the new model, but now it fits in more consistently with the brand's showroom image. A range of new interior upgrades have been administered as well to boost the ute's overall appeal.
You won't hear too many complaints about there not being enough variants to choose from. Mazda Australia confirms 23 different possible body and powertrain configurations. Ten of which are 4×2, and 13 come with 4×4.
These are further separated by a 2.2-litre four-cylinder petrol engine and a 3.2-litre turbo-diesel five-cylinder unit. In most cases, buyers can select between a six-speed manual or automatic transmission.
Three body styles will also be available, including Single Cab, Freestyle Cab, and Dual Cab. For further variety, there are three trim levels that each come with their own set of standard features and luxuries, spanning from the XT, XTR, and range-topping GT. Mazda Australia managing director Martin Benders spoke about the new model in a statement, saying,
""The change in exterior styling makes the BT-50 look tougher, more masculine, so we expect renewed interest by trade professionals, an important buying group. With a range of great driving, safety and off-road features, the pricing has not moved significantly so the BT-50 continues to be a very competitive value proposition."
The updated range will hit showrooms this month, with more detailed specs and features to be announced then. Prices and price changes are as follows (excluding on-road costs):
4×2
6M 2.2L SINGLE C/CH XT 4X2 – $25,570 (old price $25,570)
6A 2.2L SINGLE C/CH XT 4X2 – $28,815 (old price $28,740)
6M 3.2L SINGLE C/CH XT 4X2 – $28,815 (old price $28,740)
6M 3.2L FREESTYLE C/CH XT 4X2 – $32,745 (old price $32,670)
6A 3.2L FREESTYLE C/CH XT 4X2 – $34,745 (old price $34,670)
6M 3.2L DUAL C/CH XT 4X2 – $34,745 (old price $34,670)
6M 3.2L DUAL CAB UTILITY XT 4X2 – $36,545 (old price $36,170)
6A 3.2L DUAL CAB UTILITY XT 4X2 – $38,545 (old price $38,170)
6M 3.2L DUAL CAB UTILITY XTR 4X2 – $41,630 (old price $40,820)
6A 3.2L DUAL CAB UTILITY XTR 4X2 – $43,630 (old price $42,820)
4×4
6M 3.2L SINGLE C/CH XT 4X4 – $36,850 (old price $36,810)
6A 3.2L SINGLE C/CH XT 4X4 – $38,910 (old price $38,810)
6M 3.2L FREESTYLE C/CH XT 4X4 – $40,815 (old price $40,740)
6A 3.2L FREESTYLE C/CH XT 4X4 – $42,815 (old price $42,740)
6M 3.2L FREESTYLE CAB UTILITY XTR 4X4 – $47,675 (old price $46,890)
6A 3.2L FREESTYLE CAB UTILITY XTR 4X4 – $49,675 (old price $48,890)
6M 3.2L DUAL C/CH XT 4X4 – $42,815 (old price $42,740)
6M 3.2L DUAL CAB UTILITY XT 4X4 – $44,615 (0ld price $44,240)
6A 3.2L DUAL CAB UTILITY XT 4X4 – $46,615 (old price $46,240)
6M 3.2L DUAL CAB UTILITY XTR 4X4 – $49,700 (old price $48,890)
6A 3.2L DUAL CAB UTILITY XTR 4X4 – $51,700 (old price $50,890)
6M 3.2L DUAL CAB UTILITY GT 4X4 – $51,790 (old price $51,140)
6A 3.2L DUAL CAB UTILITY GT 4X4 – $53,790 (0ld price $53,140)