2015 saw some interesting trends in the light and small car market segments. Compared with 2014, total volume in the small car market actually decreased from 235,778 cars (21.2 per cent share overall) to 215,361 (18.6 per cent share). This can be attributed to a larger mix of small and medium SUVs enticing people from traditional small cars, while the increase in popularity of small cars over $40,000 (16,649 sales/1.5 per cent to 17,761/1.5 per cent) is telling.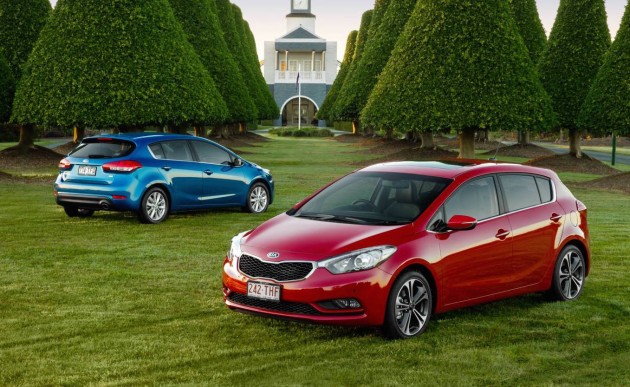 Small SUVs (under $40k) volume grew from 7.3 per cent in 2014 to 8.7 per cent last year, while medium SUVs under $60,000 went from 10.1 per cent to 11 per cent – probably accounting for some of the small car segment's reduced market share. Premium small SUVs over $40,000 grew by 0.4 per cent to 1.0 as well.
Nevertheless, in an ever-fragmenting market, Corolla held steady to be reigning champion again, with 42,073 registrations in Australia in 2015, or 19.5 per cent segment share. This compares with 43,735 (18.5 per cent) last year. The update it received last year no doubt helped it continue success.
Breathing down its neck was the Mazda3, at 38,644 registrations (17.9 per cent), although this year the gap widened between it and the Corolla – which it came within a few hundred registrations of last year.
Other winners include the facelifted Hyundai i30, while the Ford Focus tanked to the tune of 8664 cars compared with the previous year. Volkswagen Golf saw significant growth, seemingly unencumbered by the emissions scandal, while Holden's Cruze slipped somewhat. The car that experienced the biggest rise in sales year-to-date was the Kia Cerato, up an impressive 52.1 per cent.
See below for the top 10 best-selling small cars in Australia. This numbers include the premium above-$40k vehicles, however, none of them made it into the top 10. The best-selling premium small cars was the Audi A3, going out to 5443 buyers (up from 4549 of 2014).
1. Toyota Corolla – 42,073 (down from 43,735/-3.8% from 2014)
2. Mazda3 – 38,644 (down from 43,313/-10.8%)
3. Hyundai i30 – 32,306 (up from 31,505/+2.5%)
4. Volkswagen Golf – 22,092 (up from 19,178/+15.2%)
5. Holden Cruze – 15,222 (down from 18,554/-18%)
6. Kia Cerato – 10,157 (up from 6679/+52.1%)
7. Mitsubishi Lancer – 8527 (down from 10,033/-15%)
8. Nissan Pulsar – 8505 (down from 10,515/-19.1%)
9. Hyundai Elantra – 8346 (down from 8779/-4.9%)
10. Ford Focus – 7112 (down from 15,116/-53%)