Tesla has introduced a new idle fee system that will charge Supercharger uses who leave their fully-charged vehicle unoccupied in a congested Supercharger centre.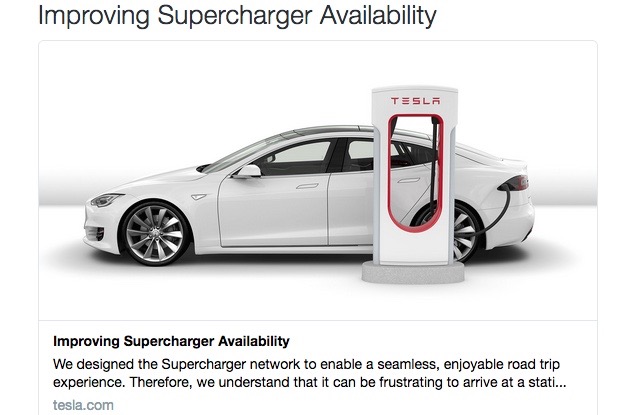 The new fee is a response from Tesla's CEO Elon Musk to a tweet he received from a frustrated Tesla owner last week. The system will aim to reduce congestion at some of Tesla's busier Supercharger stations. After Loic Le Meur wrote to Elon Musk:
"The San Mateo supercharger is always full of idiots who leave their tesla for hours even if already charged."
Musk replied: "You're right, this is becoming an issue. Supercharger spots are meant for charging, not parking. Will take action."
That action, as it turns out, took less than a week to come to fruition, with Tesla announcing yesterday that vehicles left unoccupied after charging will be charged a fee. The fee is set at US$0.40 for every minute the vehicle remains unoccupied in the US, with the fee standing at AU$0.55 here in Australia. The idle fee will be charged to the owner's Supercharger account.
In a statement, Tesla said that it "understand[s] that it can be frustrating to arrive at a station only to discover fully charged Tesla cars occupying all the spots. To create a better experience for all owners, we're introducing a fleet-wide idle fee that aims to increase Supercharger availability."
Musk has since specified that the fee will only apply if the Supercharger station is congested. On Twitter, he wrote: "We are going to modify this so that people only pay a fee if most bays are occupied. If the site is basically deserted, no problem to park."
Tesla has previously introduced a text messaging warning service, that sent a message to the owner of a vehicle every five minutes after it was left unoccupied after charging.