Ferrari has been spotted testing a prototype version of what is believed to be a stripped out, lightweight version of the Ferrari 458. The car is being slated as the 430 Scuderia successor, and could wear the badge 'Ferrari 458 Monte Carlo'.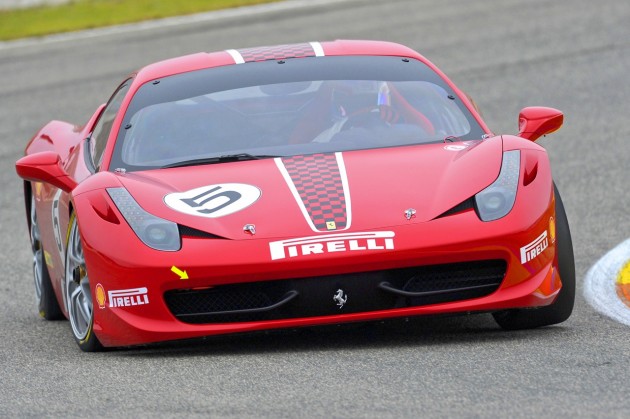 (Ferrari 458 Challenge race car shown)
Entry-level V8 Ferraris of the recent past have all been accompanied by a racing-car-for-the-road variant of some sort a few years after the normal version hits the market.
In the case of the latest 458, we are yet to hear or see what Ferrari is up to in regards to a successor to the previous 430 Scuderia. Up until now that is. A video has captured a prototype of the new model being tested around the company's private test track in Fiorano, northern Italy.
Although the video is quite hazy and short, it does provide evidence that such a model is in the making for serious tract-day fans. As you can hear, the 458 V8 engine is certainly not restricted by any sort of substantial road-friendly exhaust system. Instead, it barks loud and clear.
Official details, including the Monte Carlo name, are yet to be announced. The new model is expected to feature various and extensive weight reduction measures though like the predecessors, including more carbon fibre, minimal interior luxuries, and a more serious suspension and tyre and wheel package.
Power is also likely to be bumped up on the 4.5-litre naturally aspirated V8 engine, which produces 419kW in its standard road-going form. Output is pitched to be around the 456kW mark.
As for market entry, the new track-ready model is expected to arrive some time later in 2013. In the meantime, click play below for a sneak peek.