A video showing what is believed to be one of the first running versions of the highly-anticipated Tesla Model 3 has surfaced online, giving us a clear view of its road presence and proportions.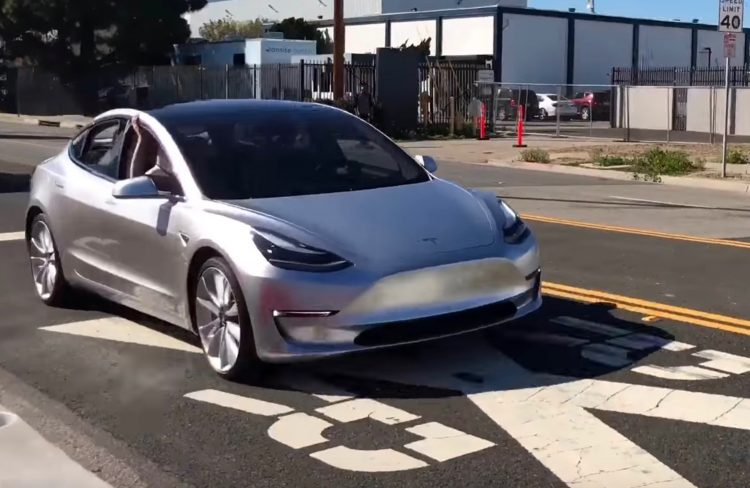 The Tesla Model 3 is set to go into production in July this year, and as we found out earlier this year the company was planning to start building prototype versions in February. It's believed this example spotted here is one of the first working prototypes.
According to the video description, posted by Unplugged Performance YouTube channel, the car was spotted around Tesla's headquarters which also happens to be right near Unplugged Performance's office. This allowed the team to obtain plenty of video footage of the mid-size sedan out and about.
So far we've seen only concept versions of the Model 3, but this prototype looks pretty much identical to those concepts. We think it actually looks better than the concept, as it takes more of a sedan shape than the unusual short and stubby hatch-like silhouette of the concept.
Specific details on the variant lineup and battery ranges are yet to be confirmed. According to reports there will be a range of options, like in the Model S and Model X, potentially including a 'Ludicrous' speed package taking the mid-sizer to a ridiculous 0-100km/h time.
At the initial unveiling, Tesla promised a range of at least 346km, but this could be for the base model, as well as a 0-100km/h time of at least under 6.0 seconds. Again, this could be for the base model. Tesla has also confirmed a US$35,000 starting price. First deliveries are expected later this year, with new orders set to take delivery from mid-2018.
Click play below for more of a look. You'll notice a big pipe in the background, which is Tesla's Hyperloop test track.