Skoda's successor to the Yeti will be the Karoq, the Czech automaker has today confirmed, releasing a number of teaser clips to give us a preview.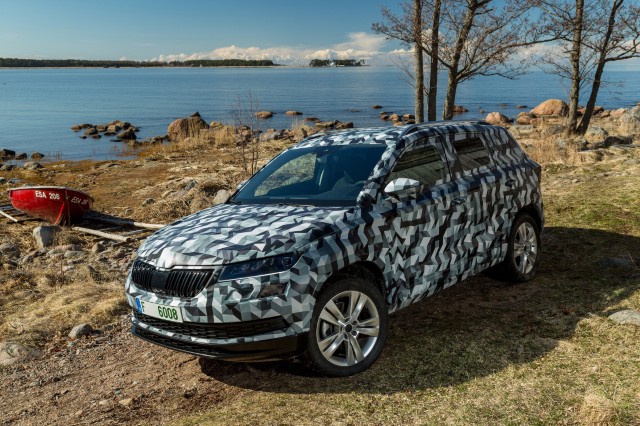 The new name comes from the Alaskan language used by the indigenous people of that region. It is a portmanteau of 'KAA'RAQ,' meaning car and 'RUQ' which means arrow. The more conventional styling and silhouette would necessitate the discontinuation of the Yeti name, which had an unusual silhouette for the segment.
The name also brings some alliteration to the Skoda SUV range, with the Kodiaq model having already been announced. The Karoq will be closely related to the VW Tiguan and SEAT Ateca – both of which utilise Volkswagen's MQB architecture.
Engines for the Karoq will range in output from 85kW to 140kW, with the new 1.5-litre TSI that debuted in the Golf 7.5 facelift also featuring. Whether that engine equipped with cylinder deactivation comes here remains to be seen. A 2.0-litre diesel generating 140kW will be tied to a seven-speed DSG and standard all-wheel drive for the most powerful Karoq. A six-speed manual will be available on lesser versions, at least overseas.
Dimensions for the Karoq are 4382mm of length, 1841mm of width, 1605mm height and a wheelbase of 2638mm for front-drive cars and a shorter 2830mm figure for all-wheel drive versions.
Boot space will be 521 litres with the seats up or 1630L with them folded. Removing the rear bench altogether liberates 1810 litres of space, while the VarioFlex rear seat system with adjustable rear seats varies seat-up boot space between 479L and 588L.
Check out the videos below to see more of the Karoq. It will be unveiled at the Frankfurt motor show in September.
https://youtu.be/QO-oZzzKb6Y