Renault has whipped the covers off its new twin-turbocharged 1.6-litre diesel engine, which produces about the same amount of torque and power as a strong 2.0-litre turbo engine.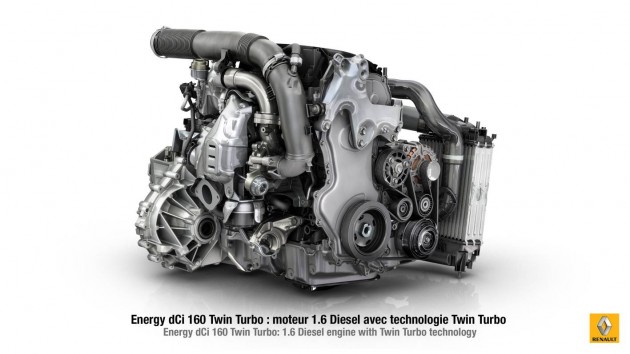 Renault claims the twin-turbo setup delivers 117.7kW of power and 380Nm of torque, with a 25 per cent reduction in fuel consumption and CO2 emissions over an equivalent 2.0-litre unit.
Down to the nitty gritty, the forced induction setup consists of two sequential turbochargers. The first is a low inertia turbo to provide low-end torque, with 90 per cent of the peak torque available at just 1500rpm. The second slug takes over at the higher end of the rev range to ensure smooth acceleration and top end.
The engine itself also has a couple of cool features, including a transverse water flow system for faster cooling of the block, U-flex piston rings that adapt to changes in the cylinder walls, and diamond-like carbon finishing of the cam followers to reduce friction.
According to Renault, this engine could find its way into larger cars and be available for the company's D and E segment models in the near future.