It's been a bit of a given that Holden will source a lot of its future vehicles from GM's European division, namely Opel and Vauxhaull. The company has now confirmed that over one-third of its future lineup will be based on Opel-Vauxhall products.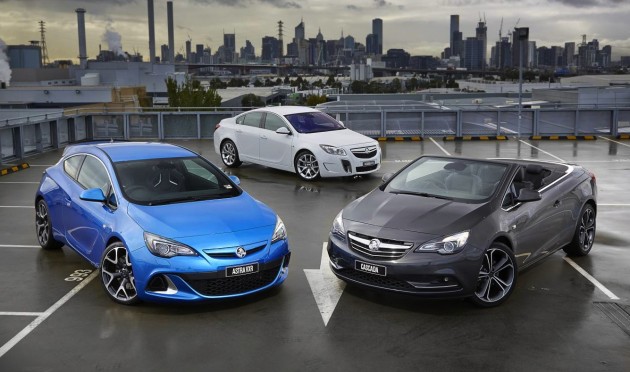 Holden has already announced it will be introducing effectively re-badged versions of the Opel Insignia OPC (Opel Performance Centre), Astra GTC and OPC, and the Cascada next year. However, it looks like Australians might be getting plenty of the more regular models as well such as the standard Astra petrol and diesel and the Insignia petrol and diesel.
The first three models will be launched during the first-half of 2015, giving the company plenty of overlap before local manufacturing closes down by 2017. Karl-Thomas Neumann, executive vice president and president of GM Europe, announced the news at the Paris Motor Show today. He said,
"I'm very excited about the role our great products will play in the resurgence of the Holden brand, by being able to provide more than one-third of Holden's future product line-up.
"Spearheaded by Opel's DRIVE! 2022 strategy, we are making significant investments in new models, engines, transmissions and testing facilities to ensure we deliver truly world class products to our export markets like Australia."
Opel has plenty of other models on sale in Europe that may head to Australia, such as the Corsa compact hatch and the cute and sporty Opel ADAM. Gerry Dorizas, Holden's chairman and managing director, said,
"Holden and Opel share very similar core brand values, including our commitment to performance, engineering excellence, vehicle dynamics and technology, which makes this such a strong and obvious partnership."
This, of course, opens the question of where will the remaining two-thirds come from? Holden already imports vehicles for South Korea through GM Daewoo and from Thailand, in the case of the Captiva, Cruze, and Colorado, which means this arrangement will probably continue on.
For performance fans, all we can do is keep our fingers crossed for some vehicles to come from the US. Specifically, the Chevrolet muscle cars such as the Corvette and Camaro which would line up nicely against the Ford Mustang arriving in Australia next year.
Holden is yet to announce or confirm plans for the Commodore. As far as we know the badge is likely to live on, however, it would obviously be applied to an internationally-sourced vehicle.