Nissan's performance division, Nismo, has developed a unique hotted-up version of the Nissan Patrol V8 to celebrate the introduction of the sub-brand in the Middle East.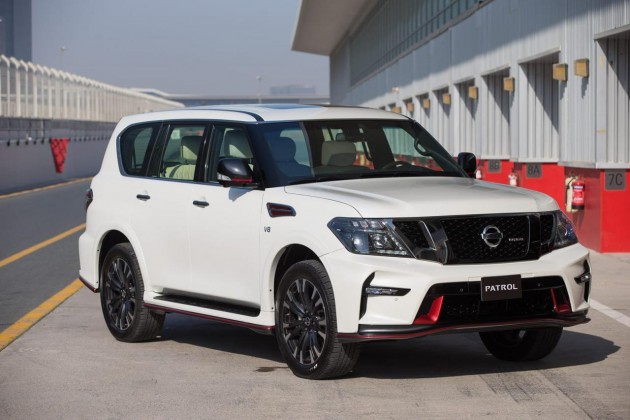 Based on the current Patrol V8, which is a very popular vehicle in the market region, Nismo has applied its usual lick of enhancements to almost every aspect of the massive SUV.
In the engine bay the 5.6-litre naturally aspirated V8 is tuned to produce a whopping 319kW of power. This is up from the standard rating of 298kW. Torque output hasn't been mentioned, however, the standard 560Nm is already pretty hefty.
To boost the Patrol's agility and handling Nismo has developed a custom sports suspension setup with Bilstein dampers, along with a bespoke steering calibration to keep up with the increased stability.
Other highlights include fashionable RAYS forged alloy wheels measuring 22 inches. These are wrapped in sports tyres and hide beefy brakes. Finishing off the exterior is a neat bodykit with front and rear spoilers, side skirts, a sports exhaust, and a number of racy red trimmings.
Some enhancements have also been provided for the interior, with matching red highlights, a Nismo instrument cluster, and a plush white leather interior with Nismo seats, complete with LCD screens in the front and back.
Nismo is opening up shop with the 370Z and the mighty GT-R Nismo in the Middle East, following popular demand in other regions, with the Nismo Patrol adding a touch of exclusivity for the market.