Reports are circulating once again surrounding the idea of Audi reintroducing the Audi Sport Quattro sports coupe. It is now believed production may commence in 2015.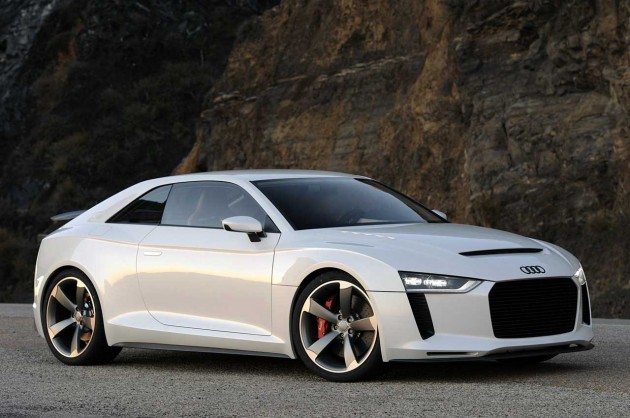 The Audi Sport Quattro is famous for being the street version of the insane Group B Audi S1 rally car. For the new model, a similar sort of personality is said to reside.
As far as we know the new version will feature a turbocharged five-cylinder engine, just like the original, of 2.5 litres capacity. Power is said to be around the 280kW mark, being a tweaked version of the current Audi TT RS engine.
In terms of the styling, the new Audi Sport is expected to borrow plenty of inspiration from the Audi Quattro concept (pictured) which was unveiled at the 2010 Paris Motor Show. It features a muscular yet clean-cut two-door coupe layout, sharing similar proportions to the original, with plenty of influence from the company's latest design language.
According to an Auto Bild report from Germany, Audi is working on the car and has given it the internal name the 'Q35'. The 35 is said to relate to the 35th anniversary of the original icon from 1980; hence the 2015 production expectancy.
Where it will sit in the market is an interesting one. Word has it Audi will pitch the sports car up against the popular German rivals, including the BMW M3 and the Mercedes-Benz C 63 AMG.
Whether it will sit on top of the Audi S5 ($135,900) or replace it for that year/s is still unclear. The new model is expected to borrow much of its platform from the S5 though, however, it will be much lighter in weight thanks to the use of carbon fibre in various aspects of its construction.