A year after it debuted as a V8 Supercar, the Nissan Altima has finally hit showrooms across Australia and will officially go on sale in the first week of December. The drive-away price is expected to kick off at $33,513 for the base model and $50,784 at the high-end Ti-S.
The stylish mid-size sedan comes in four variants, with the Altima ST, ST-L and Ti variants packing a 2.5-litre four-cylinder engine and the top-of-the-range Ti-S featuring a 3.5-litre V6. All come with Nissan's Xtronic continuously variable (CVT) auto transmission with front-wheel drive.
The four-cylinder offers 127kW and 230Nm, and an official combined cycle fuel economy of 7.5L/100km. The V6 comes in at 183kW and 312Nm, and offers an average fuel economy of 9.3L/100km.
In terms of the nitty gritty, the Altima utilises a chassis technology Nissan calls Active Understeer Control. The system incorporates high-response brake actuators to brake the inside front wheels during cornering, reducing the car's tendency to understeer.
The Altima also has a hybrid electronic-hydraulic power steering system that provides the natural feel of a hydraulic setup with the fuel efficiency of its electric counterpart.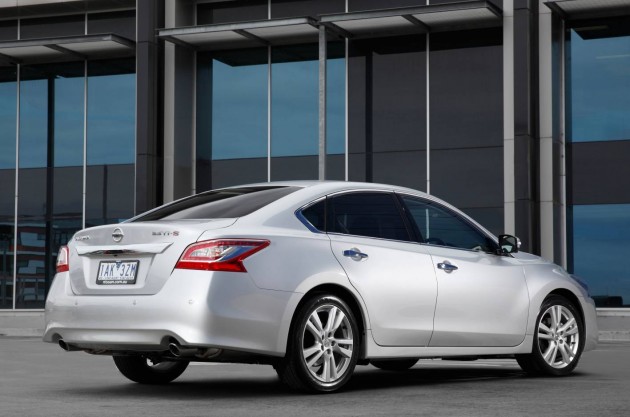 Exterior dimensions come in at 4885mm in length, 1830mm in width and 1470mm in height. The boot capacity is 488 litres.
The front seats were developed in partnership with NASA, who helped Nissan come up with a design that would bring the driver close to a neutral posture. According to Nissan, the "zero gravity" seats help reduce muscular and spinal loads and improve blood flow to reduce fatigue on long drives.
Nissan Australia managing director Peter Jones said the Altima's launch is the latest installment in the company's "new-model renaissance". He said,
"The Nissan Altima combines beautiful exterior styling with innovative interior comfort in a dynamic driving package. This is an exciting all-new model.

"It delivers great value with generous standard equipment, each matched to competitive prices across four separate model grades, making it a compelling proposition for Australian sedan car buyers"
See below for the full Australian pricing (excluding on-road costs):
Nissan Altima ST – $29,990
Nissan Altima ST-L – 35,890
Nissan Altima Ti – $40,190
Nissan Altima Ti-S – $45,390