It's billed as a luxurious crossover and competes in the small SUV segment, but it also faces some established rivals like the Audi A3, BMW 1 Series, and the closely-related Mercedes Benz A-Class.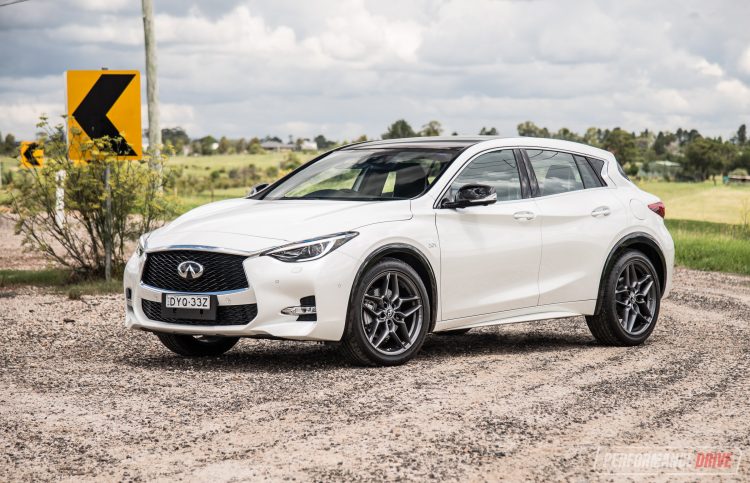 With the recently-updated 2019 Q30, Infiniti has trimmed the number of variants, and some price tags, too. Included in the tweaks are the welcome additions of things like digital radio, some advanced active safety technologies such as AEB and active cruise control, and a rear-view camera, all fitted as standard equipment.
Just two variants of the 2019 Q30 are available in Australia; the Pure and the Sport. With added kit, unique styling cues and premium additions to the interior, Infiniti is hoping it will get customers out of the popular German hatches and into its Japanese/German Frankenstein, that's assembled in the UK.
As before, the Q30 and QX30 are based on the previous-gen Mercedes A-Class 'MFA' platform. The German company has since updated this platform for its latest A-Class. So our question is, having pinched a handful of goodies from one of the world's leading manufacturers, what has Infiniti done to help the Q30 penetrate the market?
2019 Infiniti Q30 Sport – THE SPECS
Engine: 2.0-litre turbo four-cylinder
Output: 155kW@5500rpm / 350Nm@1200-4000rpm
Transmission: Seven-speed dual-clutch auto
Drive type: Front-wheel drive
Wheels: F & R: 19×8.0, 235/45
ANCAP: Five stars
Tare weight: 1455kg
Power-to-weight: 9.38:1 (kg:kW)
Official fuel economy: 6.3L/100km
Economy during test: 9.2L/100km
Fuel capacity/Type: 56L/95 RON
Power efficiency: 24.60kW:L/100km
0-60km/h: 3.50 seconds*
0-100km/h: 7.32 seconds*
60-110km/h: 5.09 seconds*
1/8 mile: 10.10 seconds at 120.6km/h*
1/4 mile: 15.48 seconds at 148.3km/h*
Max acceleration: 0.693g
100-0km/h braking: 2.81 seconds at 36.68 metres*
Max deceleration: -1.211g
Decibel at idle: 50*
Peak decibel at 60-100km/h: 86*
Priced from: $46,888 (drive-away, until July 1 2019)
* Figures as tested by PerformanceDrive on the day. Factory claims may be different

2019 Infiniti Q30 Sport – THE PACKAGE
Approaching the car, one thing you certainly can't accuse the Q30 of being is boring; which is a now familiar move from Infiniti. This test car is finished with $1200 worth of Majestic White paint, with chrome inserts around the windows and grille, combined with black contrasts. There's no mistaking this as an A-Class clone. Styling being that subjective beast that it is, we'll let you be the judge and move onto what we've got inside the cabin.
The electronically-adjustable, heated leather-upholstered seats with a two-tone finish look – and feel – great, and the overall fit, finish and design of the cockpit does indeed reflect the $46,888 starting price for this Sport. A premium steering wheel, thoughtful ergonomics, panoramic sunroof, soft Alcantara headlining and a multitude of switchgear taken from Mercedes give the interior a quality finish.
This quality feel makes the antiquated infotainment touch-screen system an immediately noticeable chink in the Infiniti's armour. If we're kind, we'd say it's close to a generation out of date, and if we were more mean-spirited we'd point out that there are cars less than half the price with better systems; how about a firmware update, Infiniti? The hand controller system down on the console is also a bit two-dimensional and doesn't provide complete control.
Having said that, the set of ten Bose speakers sound fantastic, and Infiniti's noise-cancelling technology makes the cockpit an extremely quiet, comfortable environment for the drive home. In the rear of the cabin there's also a few unwelcome surprises, namely a lack of space and limited headroom for anyone over six-foot. These gripes, combined with big blind-spots from oversized pillars, can make parking a nightmare.
Yes, there are an array of sensors, and a 360-degree camera in the Sport, but a car of these proportions shouldn't prove such a handful in a situation as mundane as a reverse-parallel park. Thankfully, what you sacrifice in the rear of the cabin is paid back with a large, 430L boot. This is right on par for this segment.
As per usual with premium offerings these days, there's a raft of safety equipment included, like park-assist, intelligent cruise control, brake assist with distance control, parking sensors and a blind-spot warning system… trust us, you'll need those last two.
In terms of ownership, Infiniti offers a four-year/100,000km warranty, with capped-price servicing for the first 80 thousand clicks. Keep in mind each service is around $550, which is still competitive against some of its European rivals.

2019 Infiniti Q30 Sport – THE DRIVE
All 2019 Q30 models – and the single QX30 all-wheel drive – are fitted with the same engine and seven-speed dual-clutch auto transmission. It's a Mercedes-Benz 2.0-litre, four-cylinder turbocharged engine that makes 155kW and 350Nm, taken from the previous-gen A-Class on which it is based.
It's no GTI-killer, but there is a healthy amount of torque, provided you're low down in the rev range. The 'M270' engine gives up peak torque between 1200-4000rpm and offers little more than white noise when you're headed toward the redline. Peak power is hit at a fairly low 5500rpm.
The front wheels can be overwhelmed by that torque, which can result in some exciting wheelspin under very hard acceleration. But overall there's a decent amount of grip from the front axle when you're pushing at anything less than flat chat. If you're looking for more grip and reassurance you'll need to step up to the QX30, which comes with all-wheel drive.
Steering feel isn't all that great, especially not compared with some of the more modern rivals. The platform, suspension and all of that does prove to be competent and capable. You just don't really get a nice message to notify you through the steering wheel.
When you're bumbling around the city the dual-clutch auto can be a little bit jerky off the mark and in a low-speed traffic crawl, but overall the ratios are nicely spaced and the gear shifts up and down are smooth.
In terms of fuel economy, we couldn't match the official combined cycle 6.3L/100km rating. In fact, we couldn't get close. Bumbling around the city, don't be surprised if you see figures hitting double digits like we did, despite the claimed urban cycle figure of 8.5L/100km. Even with our absolute best efforts in eco mode – which transforms the throttle pedal into a big spongecake – the economy remained above 9.0L/100km.
2019 Infiniti Q30 Sport – THE VIDEO
2019 Infiniti Q30 Sport – THE VERDICT
There's no doubting it's a unique choice of car. But it's a bit of a jack of all trades, and a master of none. There's a well-built interior, torque-filled engine and interesting design aesthetic and a bunch of equipment, but ultimately a car in this segment ought to offer all of this anyway.
Our recommendation is to check out the rivals before signing here. It does appeal in some areas, but so do the competition, and some. We guess one of the attractive elements to the car is the $46,888 drive-away price. However, this is only being offered until July 1 this year.
PROS:
– Unique, stylish design
– Sharp drive-away pricing (for limited time)
– Proven Mercedes-Benz A-Class foundations
– Quality fit and finish

CONS:
– Small and dated media screen
– Capable but bland driving engagement and steering feel
– Quirky hand controller for media screen
– Faces many established rivals
As always, if you're thinking about buying a new car don't forget to click here to speak with our car buying specialists.