The Nissan 370 Nismo has been officially confirmed for Australia, arriving Down Under for the first time next month. It's set to help broaden the appeal of the iconic Z car.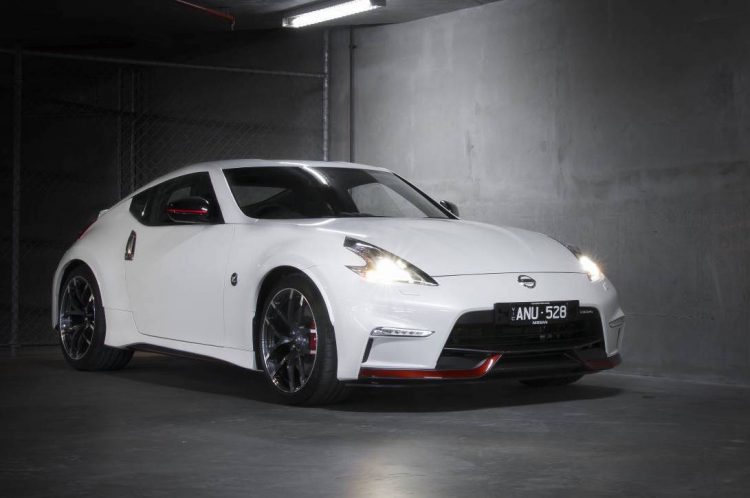 While the 370Z Nismo has been offered overseas for some time, this will be the first time local punters have the opportunity to buy the more exclusive, racing-inspired version. It follows the launch of the GT-R Nismo last year, taking the local lineup to two.
What does it come with over the regular 370Z? Well, firstly you'll notice the striking exterior that shows off a complete Nismo aero kit with front and rear spoilers, plenty of black highlights, and a set of darkened 19-inch Nismo wheels completing the look.
The new variant comes in as the top model, meanwhile the local lineup is streamlined to include just three main variants. These span from the coupe and roadster, and then the Nismo coupe sitting in as the new top-of-the-range model.
Power comes from a 3.7-litre naturally aspirated V6 engine churning out 261kW and 374Nm. This is connected up to either a six-speed manual or seven-speed auto. Acceleration figures haven't been mentioned, but the regular 245kW manual coupe covers the 0-100km/h sprint in around 5.0 seconds.
Nissan Australia is reportedly planning to boost Nismo presence in this country, while Nismo itself is also set to be planning to increase its overall Nismo product range. This could potentially include a Nismo Navara to go up against the likes of the TRD Toyota HiLux.
The new 370Z goes on sale from September, with adjusted pricing for the rest of the range as follows (excludes on-road costs):
2017 Nissan 370Z coupe manual – $49,990
2017 Nissan 370Z coupe auto – $52,490
2017 Nissan 370Z roadster manual – $60,990
2017 Nissan 370Z roadster auto – $63,490
2017 Nissan 370Z Nismo coupe manual – $61,490
2017 Nissan 370Z Nismo coupe auto – $63,990