Mitsubishi has taken the covers off the 2016 Outlander SUV as previewed last month, showcasing a facelifted exterior design and an updated interior.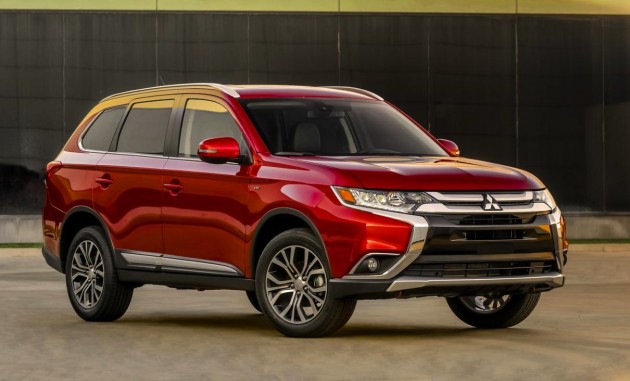 The 2016 Outlander features the company's latest styling philosophy, with a big and wide front grille area dominating the front end, support by chrome ridges. It's all called the 'Dynamic Shield' look.
At the back it's a similar theme, with a revised bumper bar, LED taillights, and two chrome beams that surround a central badge. There's also a new lower diffuser area featuring a rugged aluminium-style dressing. Tony Principe, Mitsubishi Motors Australia executive director of marketing, spoke about the new model, saying,
"The smarter, more refined 2016 Outlander is part of a major product and style rebirth taking place within MMC, and reflects the company's stronger focus on quality, technology and design excellence. The changes to Outlander are more than cosmetic, with numerous engineering improvements made to Outlander's suspension and steering system, NVH package and drivetrain performance."
Specific details on powertrain packages destined for Australia are yet to be confirmed. However, overseas models will be offered with two petrol options, including a 2.4-litre producing 123kW, and a 3.0-litre V6 producing 167kW. The PHEV plug-in hybrid is set to carry over with minimal changes.
The new model will launch in Australia in mid-April, with local specs, features and prices expected to be announced soon. PerformanceDrive will be on attendance at the official launch program in Sydney. Stay tuned for the review.