The super lightweight Alfa Romeo 4C sportscar has finally landed in Australia, priced from $89,000. It is Alfa's latest and only rear-wheel drive model on sale.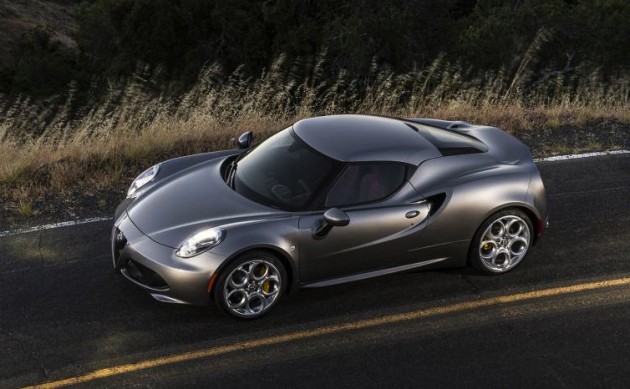 After debuting back in 2013 at the Geneva motor show, the 4C blends all of the marque's traditional elements including style, driving experience, and handling, while showcasing cutting edge technology derived from Formula One.
Sitting behind the cabin is a 1.75-litre turbocharged four-cylinder engine producing 177kW at 6000rpm and 350Nm at 2200rpm. It's matched up to a six-speed dual-clutch transmission. The engine features variable valve timing, an intercooler, and a pulse-converter exhaust manifold for optimum boost pressure and minimal turbo-lag.
Not only is the engine a potent little unit, the rest of the car is made like a supercar. It's built on a carbon fibre monocoque body and frame with aluminium chassis structures, resulting in a tare weight of just 1025kg. This means it offers a power-to-weight ratio of just 5.7kg:1kW. Acceleration from 0-100km/h takes only 4.5 seconds.
For the driver there are four different driving modes to select from via Alfa's 'DNA' toggle system, with All-weather, Natural, Dynamic, and Race modes. Each provide a unique set of settings for the steering, transmission and throttle sensitivity.
Alfa Australia is excited to announce the special Launch Edition of the 4C, coinciding with the model launch. Only 1300 of these have been made for worldwide markets, with 75 secured for the Australian market. It comes with various bespoke features such as staggered 18- and 19-inch forged alloy wheels, special sports seats, a racing exhaust system, and carbon fibre interior trimmings.
Both the 4C and 4C Launch Edition are on sale now, with deliveries taking place in February. The base model kicks off from $89,000 while the Launch Edition starts at $109,000.