Garlands of plaited greenery, twinkling baubles dusted with pseudo-snow, a sudden influx of extravagantly decorated conifers… Shop windows, city squares and house fronts start to show alarming symptoms of Christmas fever.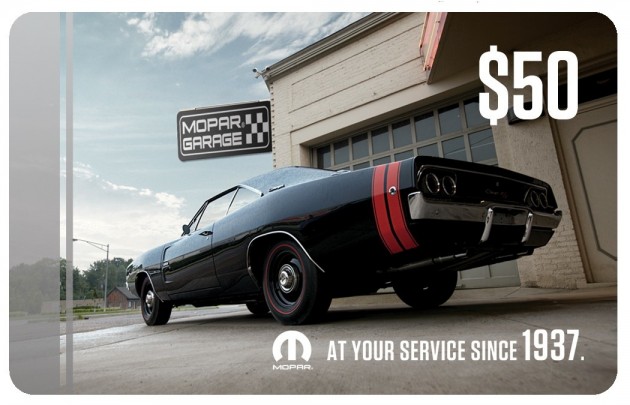 After making the same diagnosis, Chrysler's service and customer care organisation Mopar decided to jump on the Yule train as well and release a new merchandising assortment. Wanted: a privileged spot under your Christmas tree. So in case the 280,000 'older' items in the Mopar online store proved insufficient to trigger your fancy, you may want to direct your gift radar towards its latest line of memorabilia and accessories. One special subsection is reserved for HEMI collectibles, as the Chrysler engine blows out fifty candles on its birthday cake this year.
Stop planning to raid your bank, even a modest amount of dollars can transform your shopping basket into a Moparadise. A Mopar key chain is available at US$6.95 (AU$8), US$13.95 (AU$16) buys a cuddly HEMI elephant toy for the kids, and also man's best friend can have his share of the Mopar mania with a customised leash and collar (US$12.95/AU$15 each).
If 'Big Spender' is your middle name, however, make sure to check out the limited edition 426 Race HEMI blueprint reproduction with authentication letter (US$250.95/AU$294). And why not replace that battered cupboard with a one-of-a-kind Mopar storage wall cabinet (US$13,295/AU$15,580)?
To hear your darling(s) singing "On the first day of Christmas, my true love gave to me… a Mopar treat", click your way to the Wear Mopar website.