Mercedes-Benz has been spotted test driving a prototype version of the long-rumoured AMG GT R, which is set to be the first model to unleash even more power from the company's latest 4.0-litre twin-turbo V8 engine.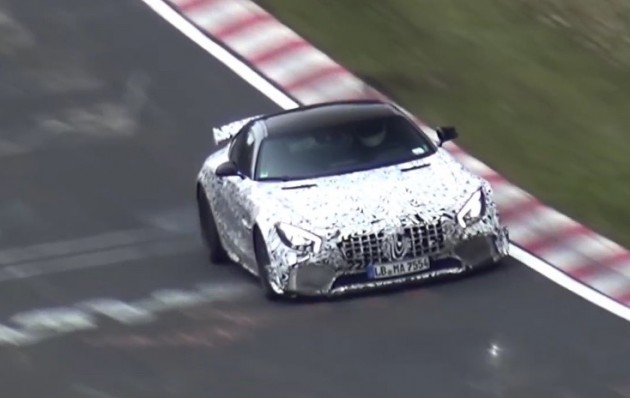 The regular Mercedes AMG GT debuted the 4.0-litre engine, which has since been introduced in other AMG models such as the C 63. Power outputs are rated at 350kW and 375kW, but this sportier 'GT R' – name not officially confirmed – is expected to use a tuned version of the same unit.
Output will reportedly be turned up well beyond the 400kW mark for the GT R. The engine is likely to power the next E 63 AMG too, where it could produce as much as 450kW. It's understood the current 375kW tune is well below the engine's full potential.
As you can see in the video below, the hyped up GT R will come with a more aggressive aero kit to produce higher downforce at speed. It's also set to come with a more serious suspension package, bigger brakes, and unique wheels and tyres.
The new version will reportedly be quicker around a track than the old SLS AMG Black Series, which was a hardcore model really only suited to the track. For this thing to beat that it will have to bring some serious credentials to the table.
Mercedes-AMG has confirmed it is planning to launch 10 new models by the end of this year, and this is very likely to be one of them. Take a look at the video below in the meantime for a taste. Get a load of that engine sound.