2018 Renault Megane R.S. prototypes have been spotted doing the rounds in and around Nurburgring in Germany, while configurator images have also surfaced online depicting the exterior design in full.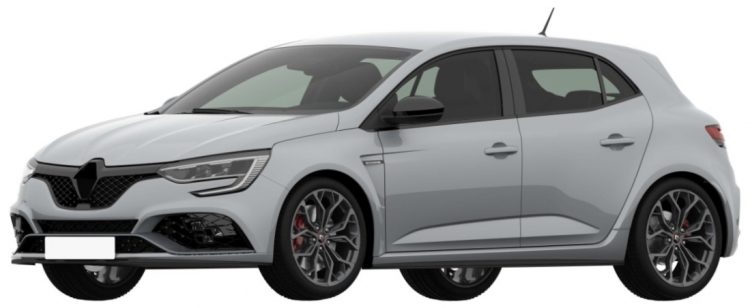 Firstly, the prototypes. We spotted a couple of examples at the Nurburgring recently, including in the main town of Nurburg. The cars look just as camouflage as the ones that have been officially previewed by Renault.
At the legendary track, engineers are pushing the new hot hatch hard, perhaps to ensure it gets a good shot at reclaiming the front-wheel drive lap record. In our quick video below you can see a bit of push understeer happening too, giving you an idea of how serious the test driver is going.
In related news, some online configurator images have hit the web detailing the design of the car, including revealing details around the front end and bumper bars, grille and the bolstered wheel arches.
Around at the back is where all the action is, in our opinion. There's an aggressive rear bumper with neat vents and cutaways in the sides, and a chunky diffuser lower down with big fins and a central, box-like exhaust outlet in the middle. It all looks very racy.
No further details regarding the engine have been confirmed yet. As far as we know it will likely come with a new 1.8-litre turbo four-cylinder, as seen in the Alpine A110 which was also spotted at the Nurburgring recently.
In that power is rated at 188kW, however, for the Megane R.S. most are anticipating a higher output to help it compete with the modern hot hatch rivals. Rivals such as the 228kW Honda Civic RS. We could be looking at around 230kW for the Megane.
Take a look at the video below for a quick preview, before the car's official debut within a couple of months.