Nissan may have broken yet another 0-100km/h record. This time, in the air, with its GT-R Drone claimed as "one of the fastest-accelerating First Person View racing drones in the world".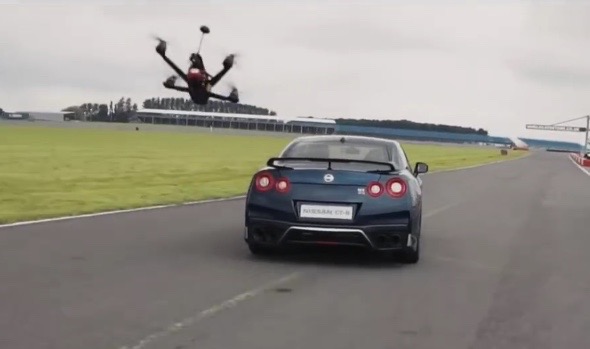 The drone, designed by World Drone Prix Champions and Tornado XBlades Racing, has been race-tuned for a 0-100km/h sprint in just 1.3 seconds.
The drone was designed to keep up with the current generation Nissan GT-R around the Silverstone circuit, but needed some extra muscle to keep up.
Behind the controls of the drone is 2015 British Drone Racing Champion James Bowles, with NISMO driver Ricardo Sanchez piloting the GT-R around the 1.93km circuit.
In a match to one-up the GT-R's 3.8-litre twin-turbo V6, four propellers with 2000kV XNova motors make the drone extremely nippy off the line, and agile, with a turning circle of just 0.3 meters.
While it proved a formidable match in some sections of the circuit, especially the start, the top speed of 185km/h wasn't a match for the GT-R's 315km/h. Check out the video below to see how it went.