Now this is what you call a cool find. We're not sure how this collection of Mazda cars and bits came about, whether it'd all been locked away for a period of time, or if it was just spares from an old Mazda wrecker, one thing is for sure, it's not very often you see so many rare cars and parts up for sale at once. The seller is claiming there are 15 cars in total.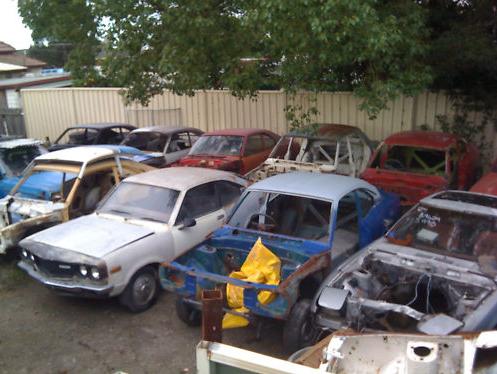 Here's what's included in the sale price:
4 x RX-3 coupes
2 x RX-3 sedans
1 x RX-2 sedan
1 x RX-7 Series 3
1 x 808 wagon
1 x 808 sedan
5 x 808 coupes
10 x RX-3 nose cones
Approx 12 x RX-3 coupe doors
Approx 13 x RX-3 bonnets
Approx 10 x RX-3 pairs of guards
Approx 12 x RX-3 boot lids
2 x RX-3 fibreglass dashs
The seller says there's a whole heap of interior parts including seats, and dash pads, as well as exterior parts including tail lights, head lights, grilles, bumper bars, engines, an original 12A twin dizzy for an RX-2, diffs, and wheels.
The owner clearly states that he will not separate any of it – you must buy everything.
We found all this Mazda mayhem on eBay. Starting price is $150,000, with no reserve. Is that cheap? Hmm, well, it depends on how bad you want it all. And how big your backyard is.
Tell us, would you pay $150,000 for all this Mazda nostalgia?
Follow this eBay link to see the complete ad.