Lotus has released details of its upcoming lightweight, more powerful version of the Evora known as the Evora Sport 410.
The Evora Sport first broke the veil earlier this year at the Geneva Motor Show, pleasing the crowd with its sharpened up design lines and promises of more power complimented by an archetypally-light Lotus body. Now with some specs confirmed, Lotus looks to not disappoint.
Under the bonnet there's a revised version of the 3.5-litre supercharged V6 unit which now produces an extra 7kW, for a total of 306kW at 7000rpm, and 410Nm at 3500rpm.
Coupled with a weight figure that has been slimmed down by 70kg, the Evora 410 Sport sprints from 0-100km/h in 4.1 seconds and onto an increased top speed of 305km/h. Opting in for the optional titanium exhaust system sheds 10kg from the Evora's weight figure.
Buyers can opt for either a six-speed manual or automatic transmission with wheel-mounted paddles, both of which are coupled with a Torsen-type limited-slip differential.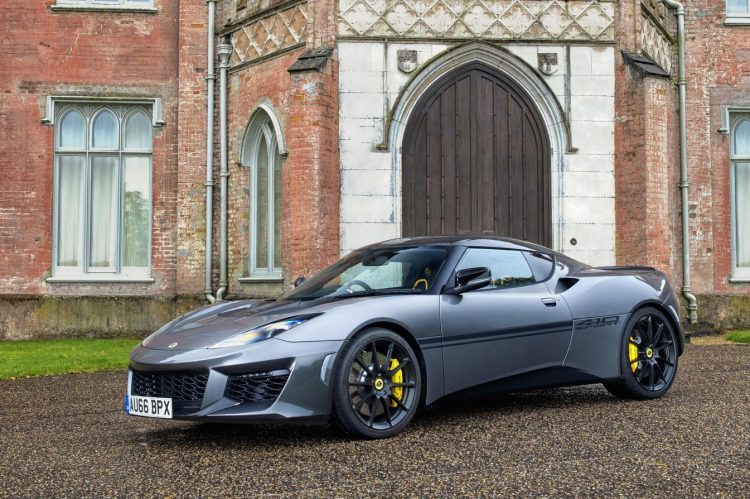 The body is covered in carbon fibre, all the way from the front splitter, roof, rear quarter panels, rear diffuser, to the new one-piece tailgate section, which sheds 9kg from the Evora Sport's 1270kg dry weight figure. These carbon fibre body panels have been designed with aerodynamic efficiency in mind, with the Evora Sport now producing double the amount of downforce while actually reducing the car's drag coefficient.
Lotus says that it worked tirelessly developing the Evora Sport on the infamous Nürburgring. CEO of Lotus Jean-Marc Gales, said: "Lotus has surpassed itself with the Evora Sport 410, and it defines a period in which we are producing our best ever cars. It can sprint from 0-60 mph in just 3.9 secs, and its ballistic pace means that, in the right hands, it's unbeatable."
"We have achieved so much in the development of the Evora platform, and the Sport 410 is possibly the most accomplished car we have ever built. It's nothing short of superb, and delivers the power and precision that Lotus cars are renowned for. We've taken the war on weight to a new level, demonstrating perfectly our principle of intelligent engineering," he said.
The Lotus Evora 410 rides on ultra-lightweight ten-spoke forged aluminium wheels wrapped in Michelin Pilot Sport Cup 2 rubber specifically designed for the Evora.
In terms of the interior, there's carbon fibre seats, and Alcantara for the steering wheel, dashboard, transmission tunnel, central console and seats, available for the 2+0 variant only.
The Lotus Evora Sport 410 is available now in European markets, with a version headed for the States next year, priced form $131,000 (not including on-road costs). You'll need to be quick though, Lotus has announced that production will be capped at just 150 units per year.