Mazda Australia has introduced the 2.0-litre version of the all-new MX-5 Roadster, bringing more power to the popular drop-top.
It's essentially the same car as the current 1.5-litre model, only it comes with a 2.0-litre naturally aspirated four-cylinder producing 118kW at 6000rpm, and 200Nm at 4600rpm. This is quite a jump on the 1.5's 96kW and 150Nm output.
Obviously the bigger engine is slightly heavier, but it doesn't alter the kerb weight by as much as you might think. The base model manual 1.5 weighs 1009kg while the base model 2.0 manual tips the scales at just 1033kg.
Mazda hasn't quoted performance figures for the 0-100km/h sprint for either engine. However, fuel consumption is up a notch in the new 2.0. For the official average cycle the 1.5 manual is rated at 6.1L/100km while the 2.0 manual is rated 6.9L/100km.
Interestingly, the 2.0 gets a larger tyre and wheel package, with 17-inch alloys wrapped in 205/45 tyres as opposed to the 16s wearing 195/50s on the 1.5L. Both feature ventilated front disc brakes with solid discs on the back. They are larger on the 2.0 though, going up from 258mm to 280mm on the front, and from 255mm to 280mm on the back.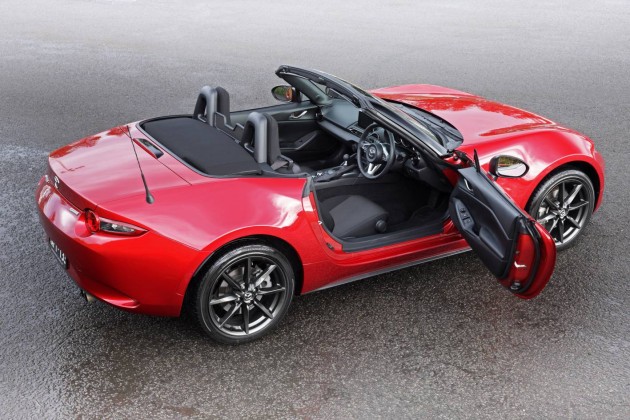 The new 2.0 version is available in two main trim levels, including the Roadster and the Roadster GT. Both get an MZD Connect LCD interface inside with sat-nav, with the GT adding climate control air-con, heated seats in leather, and keyless entry. The GT also gets a more premium Bose sound system with nine speakers. On the outside, the only distinction between the Roadster and the Roadster GT are gunmetal grey wheels over the bright silver items on the GT.
Mazda Australia has apparently already taken around 170 pre-orders of the new 2.0L. It's available through dealerships now from the following prices (excluding on-road costs):
2016 Mazda MX-5 Roadster 1.5L 6MT – $31,990
2016 Mazda MX-5 Roadster 1.5L 6AT – $33,990
2016 Mazda MX-5 Roadster GT 1.5L 6MT – $37,990
2016 Mazda MX-5 Roadster GT 1.5L 6AT – $39,990
2016 Mazda MX-5 2.0L Roadster 6MT – $34,490
2016 Mazda MX-5 2.0L Roadster 6AT – $36,490
2016 Mazda MX-5 2.0L Roadster GT 6MT – $39,550
2016 Mazda MX-5 2.0L Roadster GT 6AT – $41,550