Sometimes modifying cars is more about expressing a unique character than about creating huge horsepower. Take this Trabant RS as an example. It might not be the first car you think of for a build project, but boy it's different.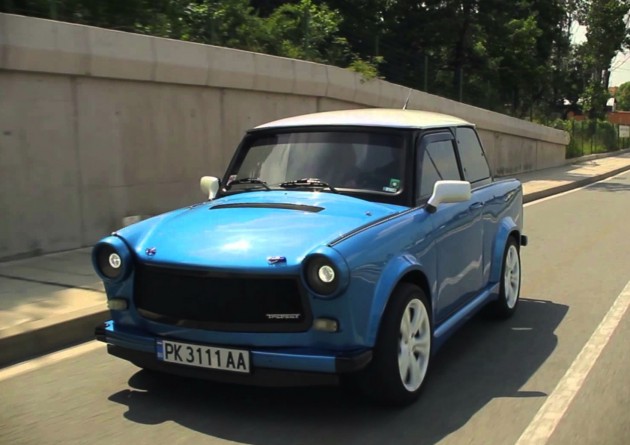 Highly modified by a Bulgarian company called Kokonja, the otherwise slow and underpowered Trabant is given more than a breath of fresh air in almost every aspect.
Starting with the engine. Gone is the outdated and inefficient factory 600cc two-stroke two-cylinder, which offered up a mighty 19kW, and in is a much fresher Fiat Coupe engine producing around 164kW.
In a car weighing in at around 600kg, it offers a power-to-weight ratio of 3.6kg:1kW. This is just shy of a Ferrari 458 Italia (3.5kg:1kW), and better than a first-gen Lamborghini Gallardo V10 (4.1kg:kW).
Kokonja hasn't mentioned any specific performance or acceleration figures, however, we'd be betting it would be a lot quicker than the factory Trabant which could cover 0-100km/h in an arduous 21 seconds, with a top speed of around 130km/h (on flat roads with an empty car).
To make sure the Trabant does't fall over going around corners, Kokonja has fit a full suspension upgrade. There's also a much more serious Brembo braking setup compared with the standard setup to make sure she stops as good as she goes.
As for the styling, both the interior and exterior are given a thorough going over. Inside are a pair of Recaro bucket seats wrapped in leather, as well as a full dash and roof retrim, while the exterior is enhanced via a rear lip spoiler, bonnet pins, a carbon fibre front grille, and a fresh coat of paint.
See the video below for more details on the intriguing build.