Lexus has officially pulled the wraps off the striking new Lexus RC F flagship sports car. It will compete in the market with the likes of the BMW M3/4 and Mercedes-Benz C 63 AMG, offering rear-wheel drive V8 performance.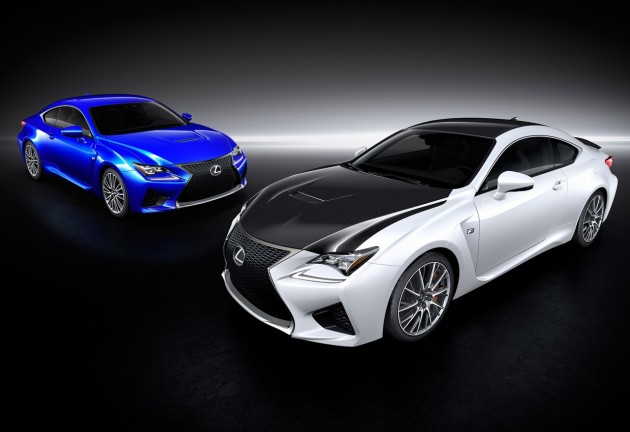 The RC F is more or less a successor to the IS F sports sedan only the Yamaha-developed 5.0-litre naturally aspirated V8 sits in the RC, two-door coupe layout. The engine itself is also tweaked for more grunt, and now produces "well above" 330kW of power and more than 520Nm of torque (up from the current IS F's 311kW/505Nm rating).
From the engine, power is transferred through to a heavy-duty rear-wheel drive system which incorporates a new torque vectoring differential for maximum cornering acceleration and grip. Just before that though, there's a revised eight-speed automatic transmission with Sports Direct Shift technology.
Drivers are able to utilise the torque vectoring system via three different operating modes available from within the cabin, including Standard, Slalom, and Track, each providing different settings for an according driving character. An active rear wing pops up to add downforce at speeds above 80km/h.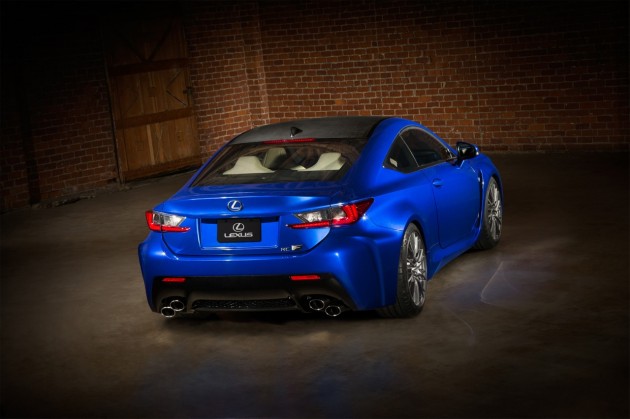 Keeping control of the ride and handling, the RC F uses coil springs at all four corners with monotube dampers and ball-joint stabiliser bars. To reduce unsprung mass, there's a set of new 19-inch forged aluminium wheels.
In terms of visual impact, the RC F showcases an aerodynamically carved body with an aggressive front end, vents in the bolstered bonnet, along with cooling ducts behind the front wheels.
For those that want more in the visual department Lexus will be offering, for the first time, a carbon package. It adds various carbon fibre parts including the roof, bonnet, and active rear wing for reduced weight.
Speaking of weight, Lexus has set a target kerb weight of below 1800kg for the production model. The company has also set a target for 0-100km/h acceleration, aiming to achieve a quicker time than the IS F's 4.8 seconds, and better fuel economy than the IS F's 11.4L/100km.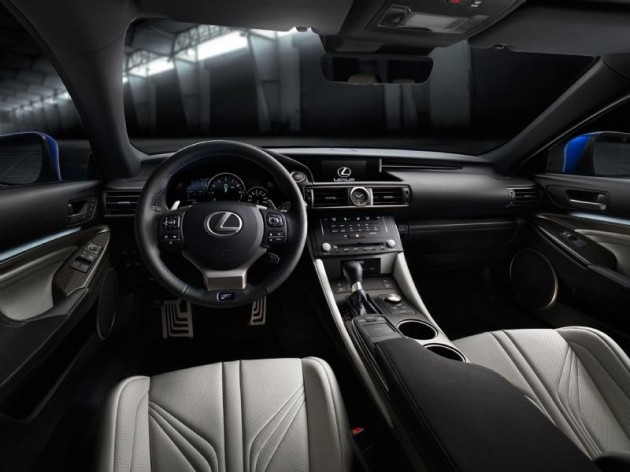 Inside, the new RC F comes with an all-new LCD instrument panel which is inspired by the one used in the LFA supercar. It features an F-exclusive performance meter with a G-force gauge, differential status, and a stop watch.
Occupants are treated to big, luscious leather sports seats with hip-hugging bolsters. Lexus says they are made with taut-fitting materials to stop movements in the cabin. There's also a special sports steering wheel for the driver with ergonomically placed paddle shifters.
An official on-sale date is yet to be announced, however, it is expected to arrive in showrooms later this year.