The stunning new Lexus LC only recently landed in Australia, but now talk has come around again of a high-performance 'LC F' variant. This would sit above the LC 500h hybrid and LC 500 and its V8 powertrain, as hinted by a recent trademark application for the name LC F.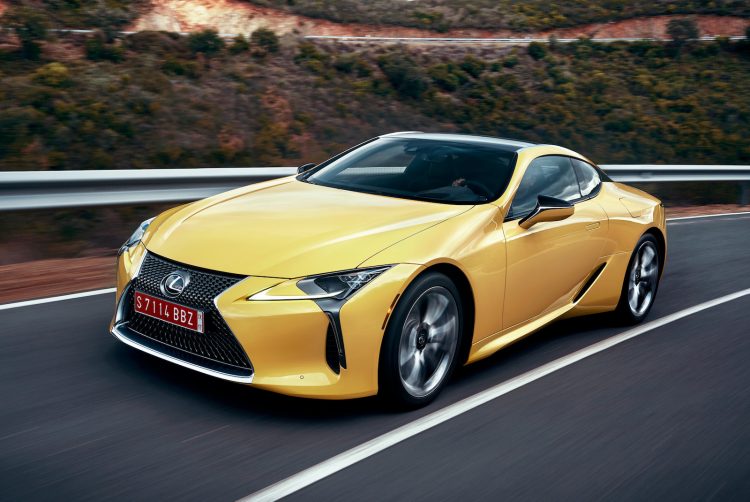 In Australia the Lexus LC is available in two forms; LC 500h hybrid and LC 500 V8. We recently had the pleasure of driving the LC 500h, and it is awesome – more on the drive impression in the review coming soon. However, even the flagship 500 V8 doesn't sit in what you would call supercar territory.
The V8 is the same 5.0-litre naturally aspirated unit as seen in F models such as the RC F and GS F, and is a more modern and tweaked variation of the V8 seen in our old friend the IS F.
Like in the RC F and GS F, the LC 500 offers 351kW. Where it does differ though is with a brand-new 10-speed sports automatic transmission, unlike the eight-speed in the others. This helps to see off a 0-100km/h time of 4.7 seconds.
According to a recent Best Car Web report from Japan, there is an LC F in the works and it is set to debut in 2019. It's being tipped as a spiritual successor to the epic LFA V10 coupe from 2010, and as a direct rival to the famed Nissan GT-R.
Details are thin at the moment, but it's understood the engineers at Toyota and Lexus could be developing a new twin-turbo V8 engine, of around 4.0 litres, producing somewhere in the region of 450kW. There's also talk of Lexus using its new 310kW twin-turbo V6 from the LS 500, pairing with a powerful electric motor assist system to produce similar power.
Avid Toyota Motorsport GmbH fans might remember the Lexus LS-based concept car from a few years ago, called the TMG 650. It featured a 5.0-litre twin-turbo V8 churning out a whopping 478kW and 710Nm. Even in the big (previous-gen) LS the motor could propel the sedan from 0-100km/h in just 4.2 seconds. Could this engine be revitalised and modernised for the LC F?
As you'll read in our forthcoming Lexus LC 500h review, the new LC showcases an excellent, feel-good chassis that's superbly planted yet engaging. In our opinion, it feels like the platform would have no problem handling 450kW-plus. We're eagerly waiting to see what eventuates of this. Stay tuned.