Picture yourself in the following scene: an expression of hopeless longing flashes across your face as you press it against the window of a Ferrari/McLaren/Porsche dealer – encircle your favourite(s). A couple of feet below your hungry eyes are those of your kids, equally mesmerised and desperately wondering why mummy and daddy cannot simply enter the showroom, confidently draw their cheque books and order one of those shining steel beauties.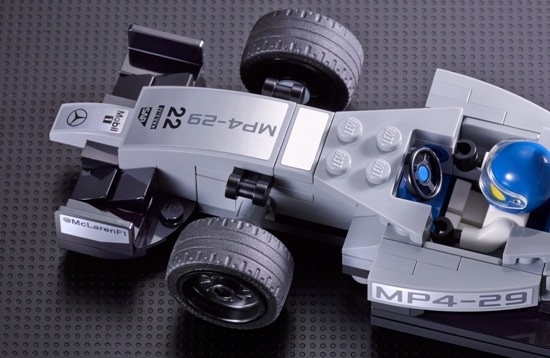 If that situation strongly reminded you of your everyday life, then you'll be happy to hear LEGO has a solution to fulfill your desires. The Danish construction toy brand has just announced the arrival of LEGO Speed Champions, for which it partnered with Ferrari, McLaren and Porsche. The brand new construction series suddenly makes your beloved eye candy on wheels seem only a fun-packed building session away.
Concretely, LEGO has devised seven different sets for both younger and older car enthusiasts to enjoy. Among the possibilities are the Ferrari F14 T, the McLaren Mercedes MP4-29, and the Porsches 911 RSR and 911 GT3 R Hybrid, all of which come with their own unique accessories, such as a winner's cup, pit stop, and finish flags.
All miniature drivers (smiling smugly) wear racing car overalls to match their vehicle. Although racing these self-made cars on your living room carpet will hardly approach the real thing, LEGO promises that "[an] adrenaline kick and the thrill of speed are included".
All sets will hit the shelves from March 2015. Prices are yet to be confirmed. Thinking of 'accidentally' forgetting to buy some Christmas presents and instead start saving the money for these fuel-lovers' delights? The choice is yours.