Does the Lamborghini Huracan LP610-4 have what it takes to be a supercar? And, more importantly, does it have what it takes to out-sell its record-breaking predecessor?
The Huracan is effectively the new Gallardo. It's the company's 'junior' model, sitting below the only other car in the current showroom; the mighty V12 Aventador. To go up against the Gallardo is a big task as the Gallardo was the company's best-selling model ever, with over 14,000 buyers getting their hands on the chisel-jawed Italian thoroughbred.
What's the Huracan bringing to the table, then? Nestled intricately behind the cabin is a howling 5.2-litre naturally aspirated V10 engine producing 448kW of power and 560Nm of torque. It's matched up to a new dual-clutch seven-speed auto transmission – no manual option – with all-wheel drive.
We were invited to take the $428,000 (base price) beast for a drive at Sydney Motorsport Park where we undertook a number of driving exercises and enjoyed laps out on the full circuit, mildly restricted by a driving instructor in an Aventador pace car.
Lamborghini Huracan LP610-4 – THE SPECS
Engine: 5.2-litre V10
Output: 448kW@8250rpm / 560Nm@6500rpm
Transmission: Seven-speed dual-clutch auto
Drive type: All-wheel drive
Wheels: F: 20×8.5, 245/30  R: 20×11, 305/30
ANCAP: Not tested
Kerb weight: 1422kg
Power-to-weight: 3.1:1 (kg:kW)
Official fuel economy: 12.5L/100km
Economy during test: We forgot to observe
Fuel capacity/Type: 80L/95 RON
Power efficiency: 35.8kW:L/100km
0-100km/h as tested: 3.2 seconds
Priced from: $428,000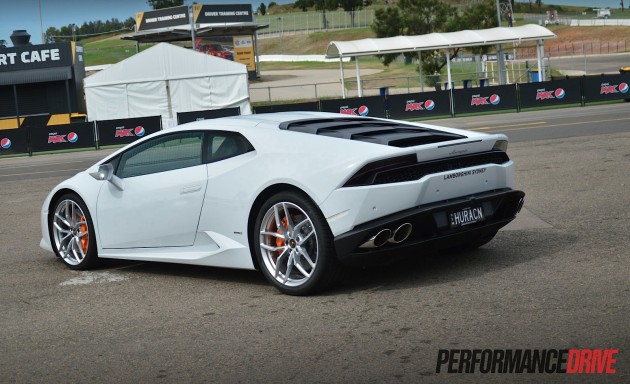 Lamborghini Huracan LP610-4 – THE PACKAGE
We've heard a lot of so-called experts critise the Huracan for not being 'Lambo' enough. We're not sure what these experts are smoking, because when you first walk up to the Huracan, it does one thing that all Lamborghinis should do; slap you across the face with an Italian leather glove and challenge you to a duel, metaphorically of course. It entices you to get close to it and find out more about it. It emotionally charges you with its sense of exotica, and it encourages you to want to try and tame it. All the while it's just sitting there, as a static display, like a piece of art.
Open the door and you'll find the perfect blend of Italian flamboyance and German precision. You have protruding switchgear to tinker with, futuristic shapes and tones to inspire you, and perhaps the most eventful start button you'll ever see in a production car. It's like a fighter jet ignition, complete with its own safety latch. Every aspect to the interior is theatrical in some way and contributes to the overall excitement of liaising with a Lamborghini. Even the seats look fantastic, and they are quite comfortable too.
It's not all just for show either. There's some proper innovative stuff in here, including a neat little LCD display with a trio of gauges at the top of the centre fascia. There's also an impressive LCD instrument cluster that presents the driver with a number of unique displays, including a full map layout. The graphics are crystal clear and the menus seem relatively easy to navigate. Enough of the interior though. What about the heart of this bullfighter?
Instead of going along with the industry trends and giving in to the easy way of escaping the ever-increasing pressure to reduce fuel consumption and emissions, Lamborghini purposely chose to stick with the naturally aspirated engine layout. This, according to Lamborghini, is because naturally aspirated engines provide a purer driving performance. When you hear the concert this thing plays, you'll agree that a pair of turbos would muffle and destroy the iconic Lamborghini vocal cords.
That's not to say efficiency hasn't been improved. Compared with the equivalent automatic Gallardo LP-560-4, which produced only 412kW, the new Huracan uses 1.2L/100km less across the official combined cycle test (12.5L/100km vs 13.7L/100km). This is because the engine, while seeming very similar on paper, is actually quite different.
The V10 in the Huracan features a dual injection system, or as the pasta-eaters call it, 'Iniezione Diretta Stratificata'. Both common-rail direct injection and manifold injection is used. For light loads, the manifold injection runs. When the driver puts the boot in the direct injection fires up. Lamborghini engineers have also increased the compression ratio slightly from the Gallardo LP560, from 12.5:1 to 12.7:1. There's also pneumatically-controlled two-channel intake and exhaust systems that constantly control flow as accurately as possible, and stop-start as standard – yep, stop-start on a Lambo. As a result, the Huracan passes Euro 6 emissions standards.
Another element that helps with efficiency is the body and chassis. Peel back the Huracan and you'll find a hybrid platform made predominately of carbon fibre reinforced plastic with various aluminium components, weighing just 200kg for the entire chassis. This replaces the Gallardo's aluminium spaceframe-style construction and helps lop around 50kg from the overall kerb weight. It also helps to increase torsional rigidity and chassis stiffness for more precise driving control.
Lamborghini Huracan LP610-4 – THE DRIVE
If your heart isn't throbbing just sitting in this machine, it sure gets a kick-start when you deploy the start sequence. The starter motor churns the V10 into life with a distinct mechanical whine, which is followed by a sudden shriek as the engine takes its first awakening breath. This whole sequence affects your heart beat and even the surface of your skin. It's amazing.
Lamborghini vehicles of the past used to be heavy, cumbersome, and frankly frightening to drive. Or so we've been told. In the Huracan it's not all that intimidating. That is once you calm down a bit after starting it. You have three driving modes to chose from via the ANIMA ('soul') switch on the steering wheel. In Strada ('street') mode, the steering is light and easy. Unlike a home-delivered dieting plan though, it's actually satisfying. It feels like a really nice steering setup in a well-sorted sports car in that it's friendly yet captivating.
Flick the switch over to Corsa ('track') mode and you have a much firmer and more sensitive steering setting. The stability and traction control is also slackened off, and the exhaust opens its airways even more. We drove in this mode for most of our time with the car, appropriately, given it is at the track. After every lap, the car continues to astound you.
The best way we can describe the steering and handling performance of the Huracan is to say it is, cliche enough, like a go-kart. You can feel a clear sense of lightness and pinpoint accuracy with your every movement. You can feel the front end biting into the corner, and you can immediately feel the back end squirming and becoming lightened when you lift off the power and tip it in. It's all super-engaging and it tends to encourage you to push a bit more and feed in the power a bit earlier.
With a clever all-wheel drive system, it is rewarding as well. You can jump onto the power at the most inconvenient of times, before the apex, and the front wheels will pull in and lead the back end. From this point, it feels like the torque bias goes to the back to push the car around. Lamborghini says that up to 100 per cent of the engine torque can be sent to the back under certain demands, while most of the time it's a 30:70 front-to-rear setting. We didn't get a chance to initiate a drift or powerslide or anything like that, however, there is plenty of tolerance there to shift the weight around and have a play. Standard 380mm front and 356mm rear carbon-ceramic brakes will save you if all else fails.
So we've saved the best bit about the driving experience until last. The engine. What a masterpiece. Words can't really explain the sensation of feeling and hearing such an orchestra of mechanical talent playing loud, right behind your ears. The engine is so close to your back that it actually feels like you're just driving the engine and holding on for dear life. And, probably thanks to the German part of this engineering concoction, there's minimal vibration or any negativity at all coming through. It's only the good stuff coming into the cabin.
To make matters more exciting, you have a brilliant dual-clutch auto to work with. Flick a paddle and it'll change gear, instantly. There's no interruption at all slamming up through the gears with the throttle pressed hard into the carpet. It just goes and goes and goes, like a rampaging 750cc superbike. It's nuts. Acceleration from 0-100km/h takes just 3.2 seconds. Lamborghini says 0-200km/h comes up in 9.9 seconds. We couldn't quite hit 200km/h from a standing start in the space we had, but we have no doubt it could achieve that.
See the video below for more of an idea about how it drives and sounds, including 0-100km/h. (We're sorry about the annoying instructor interrupting the sound of the V10. We couldn't understand him either.)
Lamborghini Huracan LP610-4 – THE VIDEO
Lamborghini Huracan LP610-4 – THE VERDICT
Lamborghini is looking to sell more Huracans than any other model it has made, which means beating the Gallardo. In its first ten months on the market, the company had already taken 3000 orders for the Huracan. The average annual sales of the Gallardo was 2000. In other words, the Huracan is off to a flying start on its journey to overtake its predecessor.
Part of the popularity no doubt comes thanks to refinement improvements and perhaps a slight shift in company personality. You no longer need arms of steel to change gears which means Lamborghini cars can now be driven by anyone. Does this mean the pedigree is disappearing?
We like to think of it as simply changing with the times. It's still an exciting brand that builds exciting cars. Look at it this way. A Commodore 64 was exciting to play with in the 1980s. Does that mean we should ignore the extraordinary graphics and whatnot of modern computers? In the same way, the Huracan is still exciting, it's just a more modern and more capable form of excitement. And besides, it's quicker, more powerful, and more efficient. And it still sounds like sex on wheels. What more could anyone want?
PROS:
– Intense acceleration heightened by glorious V10 sound
– Nimble, go-kart-like handling
– Interior a great blend of Italian flair and German quality
– Responsive dual-clutch auto transmission
– More affordable than Ferrari 458

CONS:
– Not much room for luggage
– Fairly tight cabin
– This, or Ferrari 458? (upcoming 488 GTB)
Lamborghini Huracan LP610-4 – THE COMPETITORS
Ferrari 458
4.5-litre V8 – 425kW-540Nm – 13.3L/100km – 1525kg – from $525,417