The mighty Nissan GT-R has been updated for the model year 2015 plate in the Japanese Domestic Market (JDM), bringing even further refinements for the insanely quick sports car.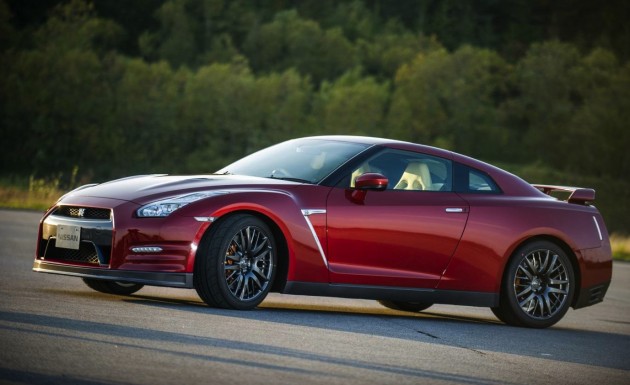 Nissan has evolved the R35 GT-R more times than any of its predecessors. With each year model update since its introduction in 2007, Nissan engineers have honed and perfected the car, and made it even quicker.
For the 2015 model, at least in JDM specification, Nissan has concentrated more on refinement levels and driving feel. The suspension, for one, receives revised dampers for better control, while the engine computer has been tweaked to provide improved steering feel and cornering stability.
Some new Dunlop run-flat tyres are have been added to improve ride quality and composure, especially on rougher roads and during on-centre steering. Nissan Japan is offering optional RAYS lightweight alloy wheels as an option too, finished in Hyper Blue Black chrome.
Under the bonnet the same 3.8-litre twin-turbo V6 engine resides, however, the flywheel housing bearings have been tuned for lower noise and a smoother operation, while the Brembo brakes get new pads are updated for reduced noise and vibration.
As a final touch, the tech geeks will like the fact Nissan has swapped the boot carpet to make the cabin quieter for a more pleasant drive. And lastly, to further boost cabin relaxation the steering damper has been optimised to lower vibrations at idle. Nissan spoke about the update on its official global website, saying,
"Among modifications to the 2014 Nissan GT-R were improvements to the car's driving comfort – without any sacrifice to its remarkable performance, while the 2015 model takes that mission one step further: Dramatically improving ride quality, while keeping the GT-R one of the best handling cars in the world.

"From low parking lot speeds to the extreme cornering situations of a race track, the 2015 GT-R exhibits better handling stability than ever before, enabling the driver to trace the desired driving line with unmatched precision."
While this is hardly the most drastic update the R35 GT-R has received, it is likely to be one of the last before the all-new R36 comes along. Industry talk suggests a 2016 release for the next edition. Nissan Australia is yet to announce any such updates for the local GT-R range. Click play below for the latest promo video.
UPDATE: Nissan Australia has confirmed the new model will arrive locally "early in 2015". Prices are yet to be announced.