Australian race driver Jeff Denmeade has his sights set on the 2012 Pikes Peak Hill Climb and will tackle the 19.99km Race to the Clouds next year in an Australia-made Skelta G-Force.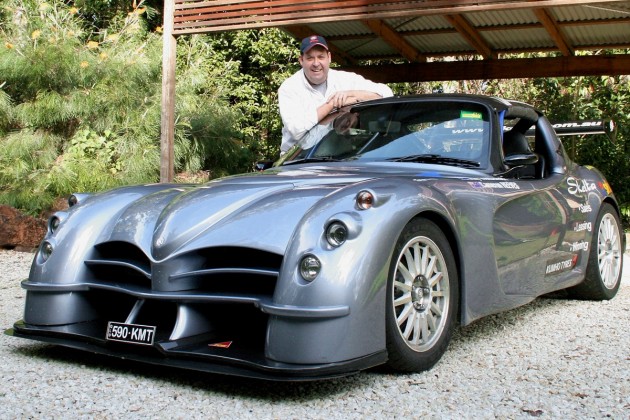 The Skelta G-Force has already taken Denmeade to second-place overall at the 2010 Targa Tasmania. The 2012 Pikes Peak is set to be a fresh challenge for Denmeade and the lightweight sports car.
Denmeade is no stranger to the famous hill climb though, in the 2010 Pikes Peak he won his class and set a new record during qualifying. And because next year's event will no longer feature any dirt sections, Denmeade says it will be perfect for the lightweight Skelta. He says,
"Now Pikes Peak is 100% paved from top to bottom by environmental court order, it's a whole new event now, and the speeds have gone up and times are starting to tumble, and to be back there in Australia's own phenomenal Skelta G-Force will make us the first Australians to compete there in an Australian produced, designed and manufactured vehicle."
The fact that the Skelta is rear-wheel drive doesn't phase Denmeade either, he says all-wheel drive is always an advantage, but says you can get the weight right down in a two-wheel drive car. Denmeade added,
"Given the lack of dirt now Pikes is all paved, a light weight two-wheel drive car with great turn-in and high-speed balance and control is the way to go for this event."
The Skelta G-Force that Denmeade will use in the famous hill climb will be the exact same car as the one used at the 2010 Targa event. Skelta maker and owner, Ray Vandersee is also looking forward to entering some Aussie engineering into Pikes Peak. He said in a recent report,
"Pike's Peak is an event I've always been keen on. Of course, the Skelta was designed as a tarmac racer for road and track work so now that the whole course is paved, I expect the G-Force will be well suited.

It's going to be great to see an Australian product competing on the world stage of the longest running motorsport event in the world."
We look forward to following all of the 2012 Pikes Peak International Hill Climb action next year, and will provide all the updates on Jeff Denmeade and co-driver and partner Catherine Hammond in the Skelta G-Force.
Skelta G-Force specifications:
– Weight – 780kg
– Power – 300hp (224kW) at the rear wheels
– Engine: Honda F20C supercharged. 9000rpm redline.
– Body: Total composite carbon-fibre
– Suspension: Inboard Push/pull rod suspension (Ie; F1 and Indy Car)
– Aero – The whole car is an aerodynamic device from the angle of the slit grills and their curves to the flat floor and undertray diffuser.
For plenty more Pikes Peak action, check out the following links:
– 2011 Pikes Peak International Hill Climb results
– Video: Monster Tajima's 2011 Pikes Peak run
– All Pikes Peak links