The Summernats Supercruise event is set to return as the 2012 Summernats Citycruise at Summernats 25 in Canberra next year. The original segment of the car festival was cancelled after various incidents in the early 1990s.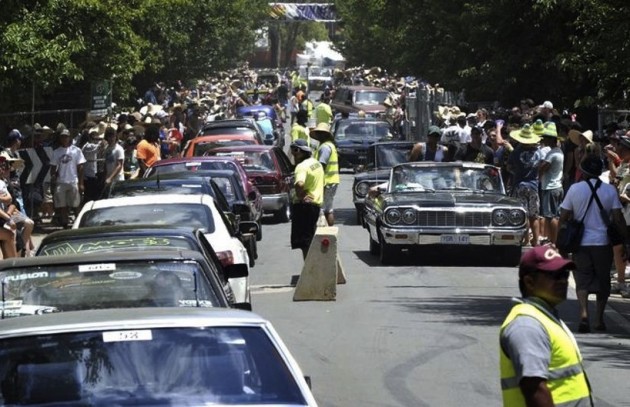 The 2012 Summernats Citycruise will take place on the streets of Canberra, just like it did in the Supercruise days. Sections of the city will be closed off to make way for a 200-strong parade of street machines lead by the current Summernats Grand Champion.
To kick off the upcoming festival, the Citycruise will be the first event on the Summernats schedule, running on Thursday January 5. It will take place along Northbourne Avenue and run between the Exhibition Park – where the main event is held – and London Circuit at midday. Summernats co-owner Andy Lopez recently said,
"Myself and the other owners have been talking about doing this since the moment we bought the Nats. It's a great celebration of the Summernats in the ACT, and it's cool that our convoy is going to drive past the hotels, restaurants, and retailers to whom the Summernats bring so much business."

"Canberra families and workers should get out and have a look at the amazing street machines that are part of Summernats 25."
This will be the first time the Supercruise segment will take place in nearly 20 years, after, in 1992, riots broke out during New Year's Eve celebrations which caused organisers to put a stop to it. Lopez said in a recent ABC report that security for the segment will be much tighter these days, saying,
"This is a very different event. What happened back in the 1990s stays in the 90s. Learnings have been made from it. We're not the people putting on that event."
Up to 30 user-pay police on bikes will be on hand and at intersections to make sure the Citycruise stays safe and controlled. Lopez also says that organisers have purposely scheduled it to run on the first day, on Thursday, in the middle of the day to allow locals to celebrate the festival, and allow families to witness what will be a spectacular sight. Lopez says,
"We've actually positioned the cruise at lunchtime on a Thursday. So it's really geared for Canberrans, families and workers in the city to sort of pop out onto Northbourne Avenue and watch the convoy rumble by."
The Summernats 25 car festival will take place at the Canberra Exhibition Park as always, and is expected to attract some of the wildest, weirdest and most powerful tuned cars this country has to offer. It will run until Sunday, January 8.