In a world that is panting in the powerful grasp of a financial crisis and environmental issues, mankind is forced to live cheaper and greener. And although George Orwell stated in Animal Farm (1945) that some of us are more equal than others, even the most famous secret agent of all time cannot escape this downsizing trend. Fans will be both shaken and stirred to hear that Mr. James Bond himself will replace his classic Aston Martin DB5 for a more humble Fiat 500 in his next movie.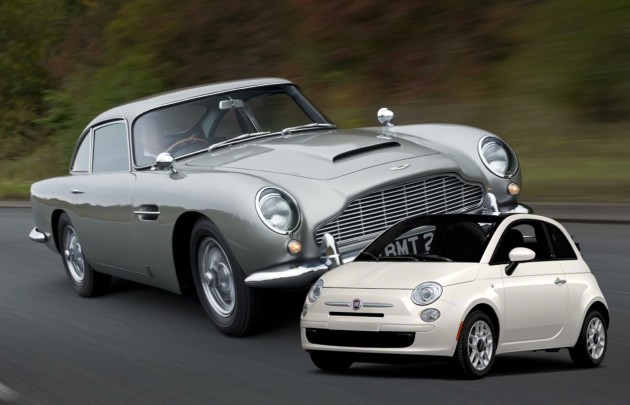 The luxurious four-wheeler, however, is far from being the only Bond car in the franchise. In the first film Dr. No (1962), the renowned MI6 agent, played by legendary actor Sean Connery, drove a Chevrolet Bel Air convertible. Additional films in the series featured 007 behind the steering wheel of a Lotus Esprit S1 (The Spy Who Loved Me, 1977) and a Ford LTD (A View to a Kill, 1985), among many shiny others.
And yet the Aston Martin DB5 has always remained an icon throughout the sequence and instantly linkable to 007's universe. It debuted in Goldfinger (1964), and starred as current Bond Daniel Craig's first spy car when he was introduced in Casino Royale (2006).
But in the previous film Skyfall (2012), Bond's beloved sports mobile booked a one-way ticket to heaven after an explosion blew the (luckily 3D-printed) beauty to smithereens. Afterwards, 007 obviously needed a new vehicle for his next thrilling adventure. Some of the future movie's key scenes will take place in Rome, and apparently the Fiat 500 turned out to fit perfectly in a setting as Italian as itself.
Mr. Bond and his newest motorised buddy are said to race through the Vatican streets in an electrifying chase, which will reportedly end in the Fiat 500 (spoiler alert!) crashing violently. If you want to catch a glimpse of this automotive tragedy, make sure you are in Rome during February and March 2015.
Meanwhile, the internet is buzzing with rumours around the 24th Bond movie. The nameless film has yielded just a few certainties, though. Sam Mendes will return to the director's seat, Daniel Craig will reprise his role as the title character, and the release is scheduled for late-2015. Oh, and a Fiat 500 will be destroyed, too.