Jaguar Land Rover (JLR) has opened the doors to its latest facility, located in Brazil. It's a move that was announced before a steady decline in South American sales.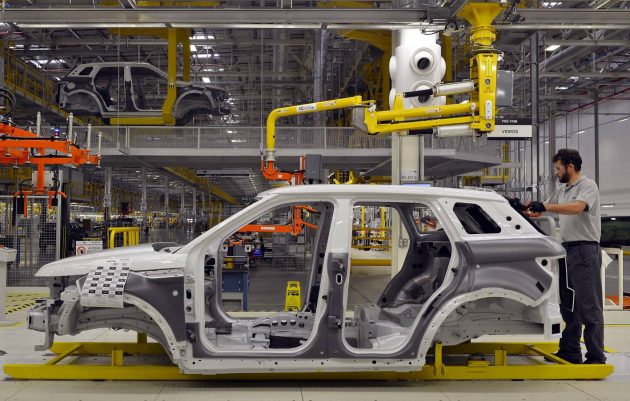 The factory in full-swing can produce up to 24,000 units per year, but is slated to produce around 10,000 Land Rover Evoque and Discovery Sport models this year. The models go on sale in the region this month.
This facility is part of a £240 million investment plan, and is expected to create around 1000 new jobs, 300 of which in the factory, and the rest to follow in the supply chain for a planned 35 JLR dealerships.
Plans for the US$350 million facility were unveiled in 2013, with JLR committing a total of US$750 million by the end of the decade. Since construction began, political unrest, rise in interest rates, rumours of corruption and the decline of the Brazilian economy have sent car sales plummeting.
In 2012 for example, vehicle sales topped 3.8 million units, in comparison to this year's estimate of just 2.1 million sales. Despite this, JLR remains confident. Wolfgang Stadler, executive director, manufacturing, said:
"Land Rover is already Brazil's market-leader for mid-sized premium SUVs, accounting for more than 30% of all sales in that segment. The Range Rover Evoque and the Land Rover Discovery Sport will now be manufactured for the first time in Latin America, building on their existing popularity with customers in Brazil."
Industry data gathered from Brazilian automakers association Anfavea says that JLR sales in Brazil have slumped by four per cent in 2016's January-to-May, compared with 2015. JLR is one of many manufacturers to set up shop in the South American market, ideal for large businesses to dodge high tariff fees on imports and to meet regulations on locally produced goods.
The factory is JLR's first fully-owned facility outside the UK. Its Chinese factory being a collaborative effort with local manufacturer Chery, in the formerly fastest growing market in the world.
Following the sale of half a million units last year, Jaguar Land Rover expects to move a million by the turn of the decade, adding a new Slovakian factory to the lineup to deal with increasing demand.
Tata Motors, the Indian-based owner of JLR, has given its subsidiary no financial backing throughout the expansion plan. This has hurt JLR's bottom line, with a 40 per cent drop in profit to £1.6 billion (15/16 pre-tax profit).