Those who love the sound of Jaguar Land Rover's vehicles might be upset to hear the company is planning electric versions of every model in the showroom after the year 2020.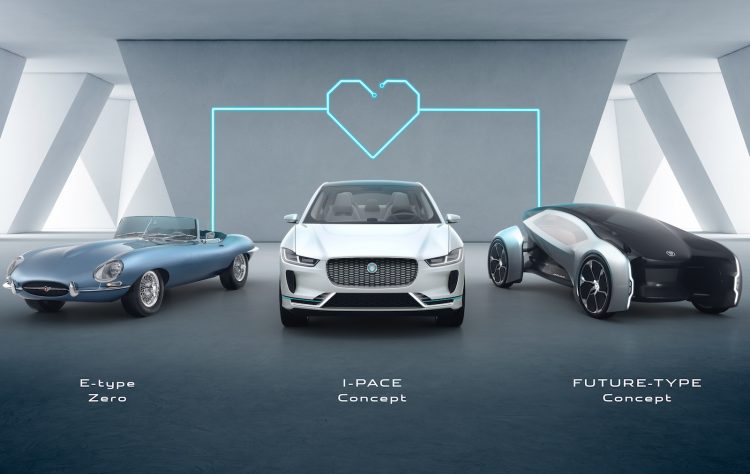 Fortunately, this doesn't mean that all vehicles will be electrified, but that all model lines will be offered with an electric powertrain alternative. The goal is part of a wider plan to give customers more choice. Dr Ralf Speth, Jaguar Land Rover CEO, said:
"We will introduce a portfolio of electrified products across our model range, embracing fully electric, plug-in hybrid and mild hybrid vehicles. Our first fully electric performance SUV, the Jaguar I-PACE, goes on sale next year."
To build some excitement around the news, Jaguar has unveiled two interesting concepts. The first is an electric version of the iconic E-Type of the Sixties. The team took a Series 1.5 Roadster and fitted it with a fully electric system capable of seeing off 0-100km/h in 5.5 seconds.
The other concept, called the Jaguar Future-Type, is a vision for a vehicle for 2040. As you would expect, the concept is a fully autonomous car. It's designed as a share vehicle which can be used by a number of people and not necessarily owned and used by an individual.
At the heart of the concept is a navigation system called Sayer, which is fully connected to its user. It's essentially a voice-activated steering wheel capable of undertaking various tasks. Jaguar explains:
"Sayer knows what's in your fridge and can even order your shopping or a pizza. You will never run out of milk again. It will be your go-to device. It is not just the 'key' to your car, it's your membership card for our on-demand service club. A club which offers either sole ownership or the option of sharing the car with others in your community."
The design is obviously quite out there, with aerodynamics playing a key role in the design, along with user-friendliness and practicality.