The Infiniti QX30 small SUV has been given the green light, according to company executive vice president Andy Palmer. He confirmed the news in a quick message on Twitter.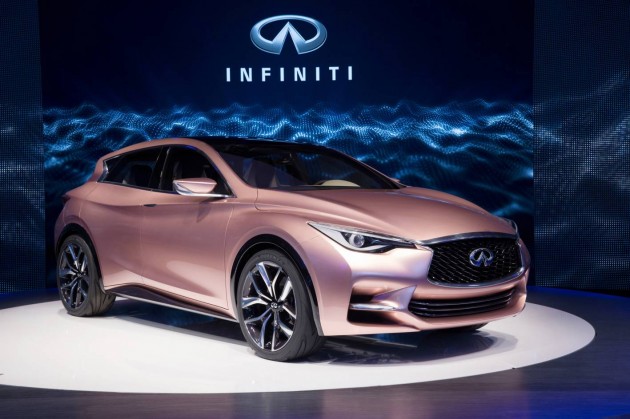 It was always a project that was expected to happen, however, now there is confirmation. It will become the company's first attempt at the small SUV/crossover market segment, sitting beneath the QX50 (not sold in Australia), and the QX70 (previously called the FX). Palmer said,
"Johan de Nysschen just said that we'll build our Q30 premium compact car and QX30 crossover in the UK (Sunderland) next year. I'm proud."
Specifications and details are yet to be announced. It's understood the vehicle will be based on the Nissan Juke platform, wearing a unique body in line with Infiniti's latest deign language.
Inside, it's likely to showcase a more up-market interior compared with the Nissan. The Japanese company is building up a reputation for providing the latest technology, so inside will probably come with an advanced touch-screen interface with complete connectivity, as well as power adjustable fixtures and fittings.
Infiniti is also planning a small hatch model called the Q30, ready to take on vehicles like the Audi A3, BMW 1 Series and Lexus CT 200h. It'll be the on-road equivalent of the QX30. A concept version was revealed last year at the Frankfurt Motor Show (pictured).