The all-new, 2016 Infiniti Q30 hatch has been officially unveiled at the Frankfurt Motor Show. It's set to shake up the premium compact car segment and is expected to become the company's best-seller.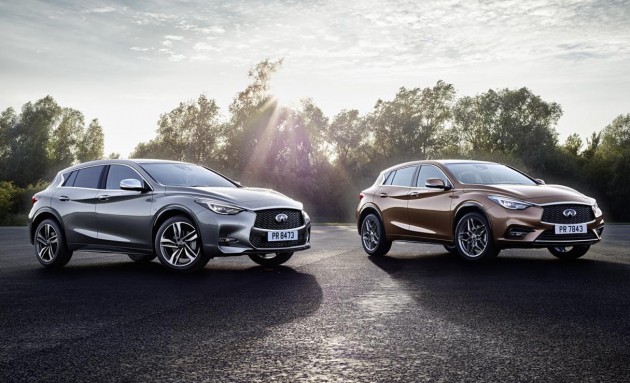 As previously reported, the Q30 is shares plenty of components with the latest Mercedes-Benz A-Class only it is dressed in Infiniti's unique design and comes with a completely different interior. It's aimed at gen X and gen Y buyers, and those looking for an expression of 'self' as opposed to 'status', Infiniti says.
You might think you've seen the vehicle before. That's because it borrows plenty of design cues as first seen on the concept version revealed in 2013. Infiniti has managed to retain most of the desirable traits, including the sleek coupe-like roofline and sophisticated front end. Alfonso Albaisa, Infiniti executive design director, summed up the design, saying,
"Infiniti is an expression of design. We want our customers to feel the hand of the artist at work in the sculpted, muscular aesthetic of our cars. Q30 design is marked by turbulent character lines and sculptural shapes that look stretched over bone and muscle. The effect is a spontaneous feeling of harmonious design that can be appreciated at a glance."
Under the bonnet, the Q30 will come with a range of powertrain options, from a 1.6-litre producing 90kW and 115kW, to 2.0-litre turbo with 155kW. Diesel engines range from a 1.5 to a 2.2, with outputs ranging from 80kW to 125kW.
A six-speed manual will be available on all models, while a seven-speed dual-clutch automatic is likely to be the more common option. Most variants are front-wheel drive, with the higher-spec diesels featuring all-wheel drive. Average fuel consumption figures are as low as 3.9L/100km, up to 6.0L/100km in the case of the 1.6. A figure for the 2.0T hasn't been mentioned.
On the inside, Infiniti will offer custom design trims, with 'City Black' blending cool purple stitching, or 'Cafe Teak' with brown and black upholstery. A 'Gallery White' option will also be offered, with white leather and red stitching.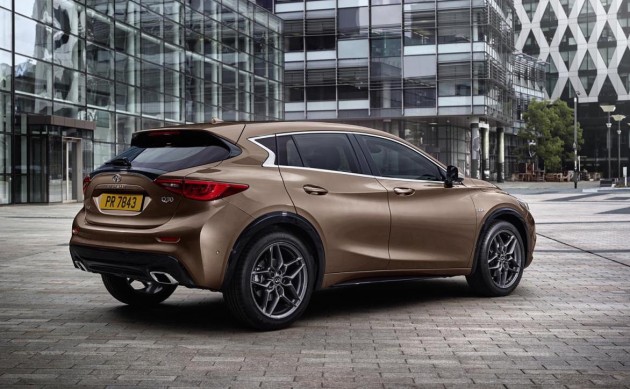 Other interior highlights include a human machine interface infotainment system, providing a tablet-like experience. The InTouch system is an updated version of the clever unit that debuted on the Q50 mid-size sedan.
Local market details and specifications are yet to be announced, but Infiniti says the compact hatch is scheduled to arrive in Australia during the second quarter of 2016. It is likely to become the company's best-selling model, overtaking the Q50 as Australia's favourite Infiniti.