After a number of teasers Hyundai has finally unveiled its all-new Toyota Prius rival; the Hyundai IONIQ. It will be available in electric, plug-in hybrid, and hybrid form.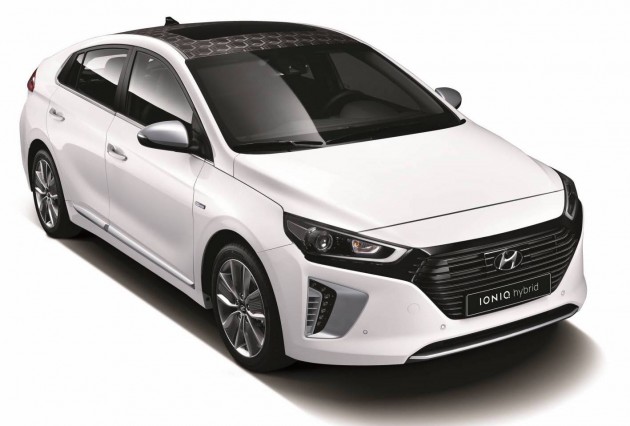 Hyundai says the IONIQ is responding to rapidly changing customer lifestyles by "breaking the mould for hybrid vehicles", promising not only fuel efficiency but also a "fun, responsive drive".
In regular hybrid and plug-in hybrid form the new model comes with a 1.6 GDI petrol engine boosted by a 32kW electric motor system. These offer a combined output of 103.6kW and 265Nm, feeding through a six-speed dual-clutch transmission. Unlike the Prius, which uses a single-speed CVT, the dual-clutch unit here should provide the fun.
Details of the fully electric model haven't been mentioned, although, the hybrid versions are capable of driving in electric mode at speeds up to 120km/h. A specific range hasn't been mentioned either.
Cleverly, the IONIQ comes with a unique ECO-DAS driving assistance system. What this does is use the on-board sat-nav system to help suggest the most economical driving route. It even takes into account the traffic and road conditions for optimum efficiency.
To further help with economy the IONIQ was designed to be as light in weight as possible. The bonnet and tailgate are made from aluminium, while the cargo screen is made from special material, along with other areas. Many of the major suspension components are also made from aluminium.
Inside, it's all about comfort, practicality, and technology. Hyundai says the cabin is packaged without compromises in space, offering a maximum – class-leading – cargo volume of 750 litres. Front and rear seat headroom and legroom is plentiful too, with heated front and rear seats for added comfort.
Sitting in the dash is a 7.0-inch TFT LCD instrument cluster, with a "state-of-the-art" infotainment unit for the passengers. It offers Apple CarPlay and Android Auto services, and a special Qi standard inductive charging pad for mobile phones.
Production of the all-new model will commence later this year. It will be a very important vehicle for Hyundai, delving into the dedicated hybrid vehicle market segment for the very first time. An Australian introduction is likely late in 2016.