Hyundai has unveiled a special edition i20 in Germany, with a maniacal 1.0-litre turbocharged three-cylinder engine.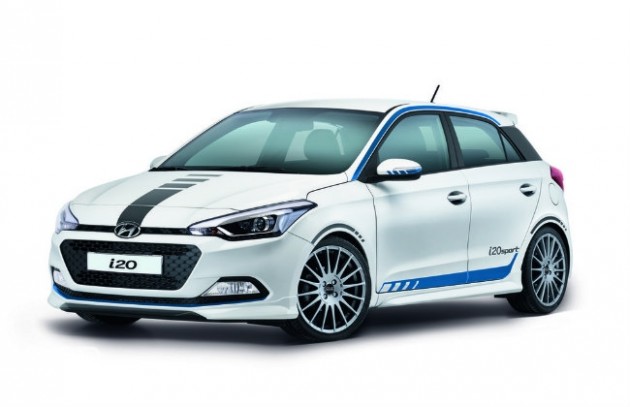 The i20 Sport was created by introducing a tiny 1.0-litre engine to a single scroll turbocharger, which was developed by Hyundai's German wing in Russelsheim.
Hyundai's previous most powerful i20 was the N Sport, which had a 1.4-litre naturally aspirated four-cylinder unit, good for 85kW. The new i20 Sport, equipped with its blower, has been tuned up to 90kW and 170Nm.
In addition there are redesigned air intakes, side skirts, a rear spoiler, a new chrome exhaust, and the i20's suspension has been lowered by 20mm for a more sporty stance.
No performance details have been released by Hyundai at this stage, however, the tweaks are sure to add up to the nippiest i20 so far.
The i20 Sport comes in any colour you like, as long as it's Polar white with blue decals. The list of standard equipment includes LED running lights, keyless entry, projector headlights, and 18-inch rally-style alloy wheels.
The i20 Sport at this stage is slated for a German market release only, with prices starting at €19,990 (about AU$30,000). In Australia the i20 is only available with a 73.5kW 1.4-litre engine.