BMW has been spotted once again testing the next-gen 'G80' 2020 BMW M3 in prototype form out on the Nurburgring. And by the looks of it, it might come with an all-new, even taller front grille design.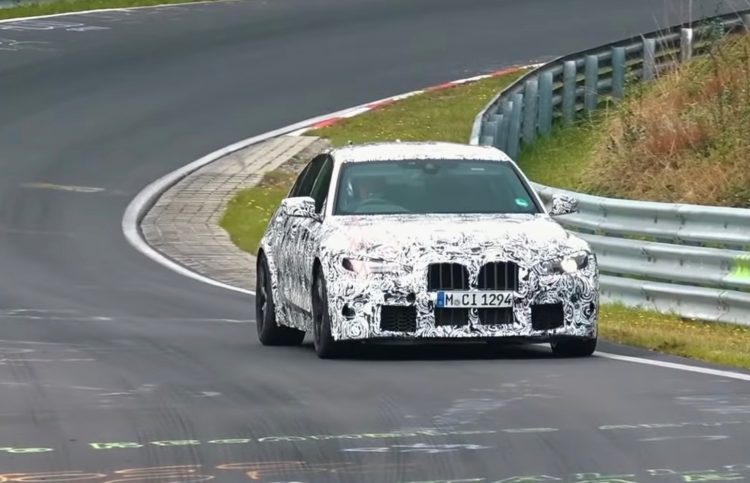 If you have a close look at this prototype, the body design is obviously completely disguised with the typically-disorienting camouflage wrap. However, squint hard enough and you might see a glimpse of what looks to be a fresh front grille layout, different to what's seen on the regular G20 3 Series.
We may have seen an exaggerated preview of this with the Concept 4 (below) that debuted at the Frankfurt motor show a couple of weeks ago. At the front of the concept was a huge interpretation of BMW's trademark kidney grilles, extending right down to the bottom of the lower bumper bar.
We're sure a production car couldn't be quite as extreme as that, but a level of inspiration could certainly trickle over. Especially for the M3 and M4, which have become among BMW's most iconic models over the years.
As previously revealed, BMW's M boss, Markus Flasch, has essentially confirmed the next-gen model will be offered with all-wheel drive and rear-wheel drive, and it will be available with a manual transmission. We're guessing this means the top models, such as the Competition, will probably come with adjustable AWD while the 'Pure' is likely to retain RWD.
Under the bonnet, power will come from the new S58 3.0-litre twin-turbo inline-six. This engine debuted with the X3 M and X4 M recently, where it produces 353kW/600Nm, and 375kW/600Nm, in the form of the non-Competition and Competition variants, respectively (only the Competition variants are available in Australia).
With the new engine and based on BMW's latest CLAR platform, we're expecting the new model to be very well weight-optimised, remembering the AWD system will no doubt add mass. But even so, the kerb weight could be quite similar to the current model, which weighs 1522kg (tare, auto).
Like the new M5, an eight-speed torque convertor automatic might be introduced, replacing the existing seven-speed dual-clutch unit. However, with the M5 pitched as more of an autobahn-annihilator, offering a higher level of comfort and luxury, perhaps BMW M will keep the quicker-changing DCT for the M3/M4. We'll have to wait and see. It does sound like a DCT in the video below.
A full debut for the new model is expected to take place within the next six months or so, potentially at the Geneva motor show next March. In the meantime, check out the latest spy video below to see how she goes so far.