Aussies are famous for creating the 'ute', so it's only fair that we make the hairiest-chested, most powerful version available in the country. This is it, the SV Enhanced HSV Gen-F Maloo R8. Even the name sounds powerful and imposing.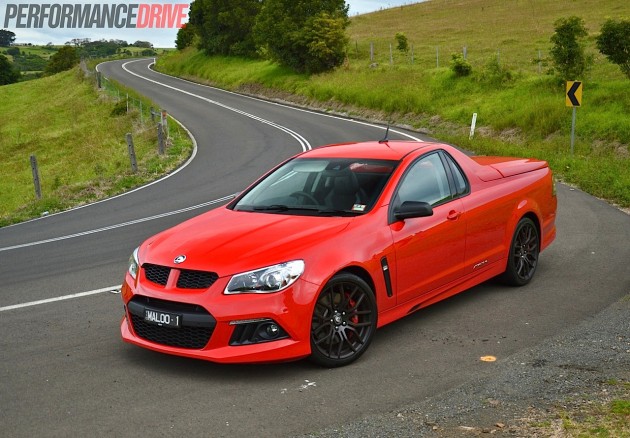 Considering the VF Commodore SS V Redline ute has posted a world record 'commercial vehicle' lap time around the Nurburgring in Germany, it would be safe to assume the Maloo R8 has the potential to reset the record and become the world's quickest ute. If only it was tried and tested there.
Every aspect of the R8 is enhanced over the SS on which it is based. It comes with a unique engine, suspension, brakes, interior and exterior, and comes with some of its own cool technologies. You can get it with a manly six-speed manual transmission or a six-speed automatic (as tested).
Prices for the R8 start at $68,290 for the manual and $70,490 for the auto, with the SV Enhanced Pack requiring a $4995 premium.
HSV Gen-F Maloo R8 – THE SPECS
Engine: 6.2-litre LS3 V8
Output: 340kW@6000rpm / 570Nm@4600rpm
Transmission: Six-speed auto
Drive type: Rear-wheel drive, limited-slip diff
Wheels: F: 20×8.5, 255/35  R: 20×8.5, 255/35
ANCAP: Five stars (scored 34.06 out of 37)
Kerb weight: 1746kg
Power-to-weight: 5.1:1 (kg:kW)
Official fuel economy: 12.9L/100km
Economy during test: 14.6L/100km
Fuel capacity/Type: 71L/95 RON
Power efficiency: 26.3kW:L/100km
0-100km/h as tested: 5.0 seconds
Priced from: $70,490
HSV Gen-F Maloo R8 – THE PACKAGE
Just like the regular VF Commodore the Gen-F Maloo interior receives a welcomed update over its predecessor. It's now fuller and more three-dimensional thanks to multiple tones and textures used for the dash and door trims, hints of chrome and faux carbon fibre, and some contrasting stitching to massage the mood.
You might not consider a ute to be a place to snuggle up in on a cold winter's morning, but in this, that's exactly what you can do. We love the suede/Alcantara sections scattered around the place. They give the in-car environment a warm and soft personality.
As a consequence though it might not be the ideal workhorse. This is not a raw and rugged interior that you're going to want to rough up with muddy work boots and unforgiving heavy tools. It's too nice in here.
It's very comfortable too with big cuddly bucket seats with loads of adjustment in all directions, plenty of legroom and headroom, and dual-zone climate control.
Vision is not the best through the back window and the A- and B-pillars are thick, but it does come with a rear-view camera and blind-spot warning to maximise safety.
Most of the techno gadgets can be found embedded in the Holden MyLink touch-screen system in the dash. It's a great advance on anything that precedes it, however, now that we've spent a bit more time in the VF we have found some minor niggles with the system.
For example, if you simply want to browse through and view radio stations or a CD song list, you have to go back through at least two menus each time you select a song. Instead of displaying a full list the whole time it springs back to a main hub screen. Some of the other menus also take a lot of touch-screen pushing, which means less time is spent looking at the road ahead.
There are some clever technologies and safety features that come with the Maloo R8. The head-up display is fantastic and it's adjustable for height and brightness. You can also switch it off at one quick flick of the brightness knob.
HSV's EDI performance menus are also very cool. You can view features such as the bi-modal exhaust status and bi-modal intake status, live, or live engine output readouts, a race-car-like telemetry display with throttle bars, or even clock lap times at your favourite track.
The only part of the EDI system that is annoying is the bi-modal exhaust. It's a tease. There's no option to leave it open. Instead, the car decides when you deserve a nice earful of that meaty V8 soundtrack; about 4500rpm and above and at idle.
Being a commercial vehicle its original purpose is to carry big, heavy things such as machinery and materials. But not only that, these performance utes are also perfect for those who have a weekend toy such as a dirt bike or go-kart.
The HSV Gen-F Maloo has a payload capacity of 500kg, which doesn't compare well to regular utes due to the sports independent rear suspension. It doesn't compare well to its main rival either, the FPV GS, which uses a more heavy duty live-axle rear setup capable of carrying 540kg. It does come with a protective tub liner and tie-down hooks, and the towing capacity is the same as the shorter wheelbase sedan; 1600kg.
If you are planning on doing lots of loading and unloading, we'd suggest removing the sporty tonneau cover and leaving it off. With it on only objects that are long and thin will fit in. With the cover on there is 1208 litres of space.
HSV Gen-F Maloo R8 – THE DRIVE
Despite its function and purpose as a ute the Maloo R8 is a sports car. You can tell this as soon as you drive off. The steering is weighted and meaty and the platform remains really flat and direct when driving around roundabouts and intersections. The suspension is also noticeably firmer than in a regular sedan or ute. It is too focused though?
Fortunately, there is a Driver Mode toggle which offers Touring, Sport, and Performance modes, and for the hardcore drivers, a traction and stability control off mode. Each bring changes to the damper setting, throttle sensitivity, and traction control intervention threshold.
In Performance mode the computers allow some slip and movement at the back end. You can throw it into a little drift and the systems will make sure you don't go too far while still allowing around 25 per cent throttle application during a slide.
Front end grip is strong. The nose pulls in tight and remains on track for the complete arc whether you're on or off the power. It doesn't feel heavy at the front, even with the big V8 resting between the front suspension towers.
You might think this is a fairly lightweight vehicle seen as though there's no substantial back end to it. It is surprisingly heavy though, tipping the scales at 1746kg. The weight doesn't really interfere with the handling in a negative way. From hard cornering to cruising on the highway, the Maloo is flat and stable. If you get a drift going the tail gracefully steps out and can be easily controlled. There is a bit of body shift when returning back on line.
In our opinion the weakest link to the overall handling is the steering. Like all VFs, there is a noticeable area of play on centre with the electric setup, and some feedback is delayed and not 100 per cent clear. We're not a fan of the big chunky steering wheel either as it seems to amplify the somewhat crude character.
At the back it's controlled and firmly planted. We're amazed at how well the 255mm tyres cope with transferring all that power and torque into forward momentum, even straight off the line.
Nail the throttle off the mark with the traction control switched completely off and it hooks up and goes with little complaint from the tyres. The best 0-100km/h time we could achieve was 5.0 seconds.
The auto transmission doesn't live up to the performance or energy of the engine. It's slow to upshift and the gears wind out for too long. Downshifts are okay with a nice automatic blip of the throttle. With the manual transmission and launch control we think the time could be reduced to around 4.7-4.8 seconds.
HSV Gen-F Maloo R8 – THE VIDEO
HSV Gen-F Maloo R8 – THE VERDICT
Should you buy a HSV Maloo R8? If you're after a vehicle that can carry 500kg worth of cargo as well as blow the socks off most sports cars, there is only this and the FPV GS or limited edition Pursuit ute to choose from. The main difference between the two, aside from the obvious stuff, is the handling and overall balance.
The HSV is able to transfer its huge power output down onto the ground very well. It also out-handles its blue-badged opponent in terms of pure dynamics and control, especially near the limit.
For the ultimate ute experience we'd suggest opting for the manual transmission. The auto here is quite old, slow, and doesn't respond well to enthusiastic driving.
PROS:
– Turns heads everywhere you go
– Sheer power and torque
– EDI functions and MyLink are a real step forward
– Excellent handling and traction, especially for a ute
– Plush interior
– Powerful and fade-free brakes

CONS:
– Auto transmission is slow and unresponsive
– Steering is a little crude and lacks precision
– Bi-modal exhaust only opens when it wants to
HSV Gen-F Maloo R8 – THE COMPETITORS
FPV Pursuit ute
5.0-litre supercharged V8 – 315kW-545Nm – 14.2L/100km – 1792kg – from $52,990 (auto)