The new BMW 8 Series has been spotted in and around the Nurburgring in Germany, following the reveal of the concept version earlier this year.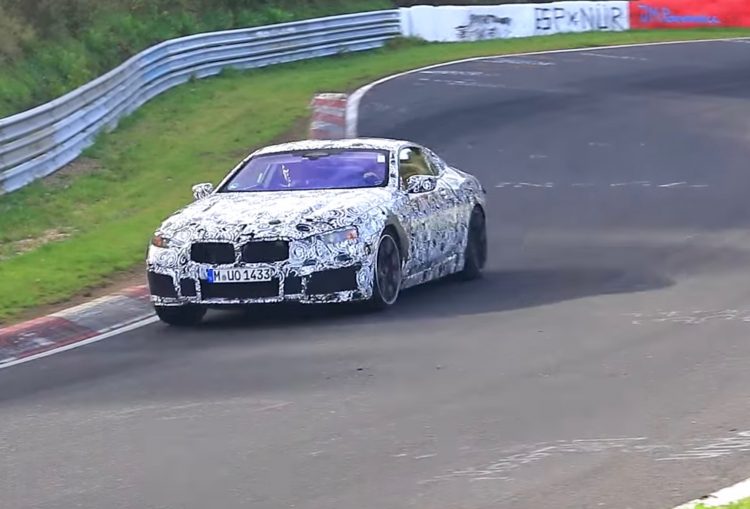 According to the video description, what we're seeing is first the '850i' (name not yet confirmed) at the petrol station near the Nurburgring. And then out on the actual track is the M8 performance version.
For the 850i speculation points towards BMW's 4.4-litre twin-turbo V8 found in vehicles such as the X5 xDrive50i. In that the unit develops 330kW and 650Nm. This could be tweaked for the new flagship coupe.
As for the M8, which BMW has confirmed will exist, reports suggest it will receive the new BMW M5's 4.4-litre twin-turbo V8. In that the unit produces 441kW, however, BMW might also tweak this to make the M8 the most powerful production model it has ever made.
Out on the Nurburgring the M8 prototype looks quick, accelerating down towards Exmuhle where the circuit crosses through the town of Adenau. It sounds good too, with a meaty yet reserved V8 burble.
Like the new M5 the M8 will likely adopt an eight-speed torque convertor automatic, compared with a dual-clutch seven-speed as seen in the current M3/M4 and M5. BMW has fine-tuned the eight-speed so it's pretty much as quick as a dual-clutch but with more versatility and control to provide smoothness in normal driving.
Separating the two 8 Series prototype models, visually, is a set of unique alloy wheels, and a set of rectangular exhaust tips for the 850i and the traditional quad-outlet tips for the M8. Check them out below.