With 340kW up front, a six-speed manual transmission in the middle, and a tight rear-wheel drive system at the back, it's near impossible to not have a grin on your face when driving the new HSV Gen-F Clubsport R8 SV. It's a more powerful, more enjoyable, and more capable form of the much-loved VF Commodore SS, and miles ahead of the old E3 series.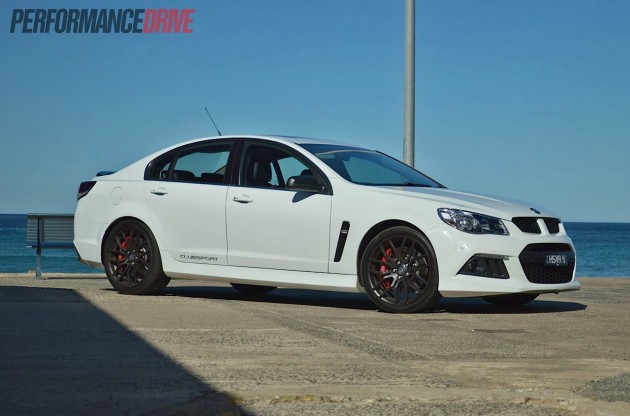 The new Gen-F Clubsport R8 with the SV Enhancement package is the most powerful naturally aspirated Australian sedan currently on the market, even overshadowing it's main competitor, the top-rung FPV GT, which is supercharged (335kW).
It's available in six-speed auto and six-speed manual transmission forms, with prices starting at $71,290. The SV Enhancement package adds $4995 to the bill.
HSV Gen-F Clubsport R8 SV – THE SPECS
Engine: 6.2-litre Chev LS3-based V8
Output: 340kW@6000rpm / 570Nm@4600rpm (SV pack)
Transmission: Six-speed manual
Drive type: Rear-wheel drive, LSD
Wheels: F: 20-inch SV forged, 255/35  R: 20-inch SV forged, 275/35
ANCAP: Five stars (scored 35.06 out of 37 – all VF Commodores)
Kerb weight: 1714kg
Power-to-weight: 5.0:1 (kg:kw)
Official fuel economy: 12.6L/100km
Economy during test: 15.1L/100km
Fuel capacity/Type: 71L/95 RON
Power efficiency: 26.9kW:L/100km
0-100km/h as tested: 4.8 seconds
Priced from: $71,290 (SV pack $4995)
HSV Gen-F Clubsport R8 SV – THE PACKAGE
For the first time, HSV is offering four different engine tunes for the HSV range, and a new SV Enhancement package which is available for the Clubsport R8, Senator Signature, and the Grange.
The SV pack, despite the near-$5000 premium, is well worth the extra bucks. It adds a heap of attitude to the muscly sedan, with the fashionable matt black trimmings featured in almost every angle of the exterior, while the 6.2-litre naturally aspirated V8 is tweaked to produce 340kW and 570Nm (up from 325kW and 550Nm of the regular Gen-F R8).
Standing out like a bozooka on top of Arnie's shoulder, the 20-inch Satin Graphite wheels give the Clubsport a very sinister style. The kind of style that makes senior citizens wonder what you're up to in the evenings. Strangely, the spare wheel isn't the same 20-inch wheel, instead, you're ordered up $499 for an optional full-size spare, and it's a GTS wheel with a slightly different spoke pattern.
Other cool SV items include a slick matt black rear spoiler curving around the boot, some matt black side mirrors, front grilles, and side vents in the front guards.
Nestling into a HSV has always been a comforting experience. And it's the same with the Gen-F Clubsport. You get big, manly, bulging sports chairs that are covered in a soft svelte suede two-tone black and red leather trim. They're an awesome place to sit, offering both plenty of support for when you're pretending to be Craig Lowndes and also enough cushion to rest your behind – for long periods if need be.
HSVs are known to be a bit of a lark, a bit brawny or crude compared with the rest of the world's large performance sedans. Thanks to changes made to the VF though, there's a distinct up-market, more premium feel to the Gen-F's cabin. The dash is much more modern with smoothly blended textures and multiple materials layered in for a fuller design. It now looks and feels like a proper $80k-plus vehicle.
The cabin environment is abundant and relaxed, with a streak of 'let's get down to business'. And, like all VF Commodores, it offers full five-bloke accommodation. An array of creature comforts such as front and rear cup holders, dual-zone climate control, and a premium nine-speaker sound system embedded into GM's MyLink interface with DVD playback keep everyone happy.
Speaking of the sat-nav-equipped MyLink system, HSV has made some tweaks to separate it from the systems used in the Commodore counterparts. There's an interactive HSV EDI 'channel' which presents various fun gauges and interesting readouts, such as instant power and torque, a lap timer, a g meter, and data logging.
While the various functions might be a bit overwhelming at first, it's fun just to play around with them all. If you do take the car to a track, all the better, you can time yourself and show off the readouts to your mates.
Like the VF, the Gen-F HSV Clubsport R8 offers a big boot, capacious enough to swallow a set of golf sticks and an Esky. Official specs read 495 litres, which is slightly less than the 535 litres offered in Ford's Falcon-based FPV sedans.
In terms of safety equipment, the Clubsport comes with the full suite of components and technologies fitted to the VF Commodore, including automatic perpendicular and parallel parking and a five-star ANCAP seal of approval.
HSV Gen-F Clubsport R8 SV – THE DRIVE
Using the VF Commodore foundations, HSV had little time to further hone and develop the Gen-F range. Fortunately, Holden has done an excellent job forging exceptional leaps forward in handling prowess, capability, and useability when it comes to chassis dynamics with the VF.
Like the E3 Clubsport predecessor, the handling is one of the Gen-F's best assets. The steering is very direct and precise, and you can always hit the apex. There's virtually no understeer on turn-in, whether you're on or off the power, and the rear end trails around and remains surprisingly planted.
Even if you decide to push the limits of friction – and law – the tail remains convincingly gripped and focused on the job of getting the power down to the ground. Of course, if you play around and toss it into a corner to shift some weight and then poke the power pedal, the rear end will swing around in a smile-inducing drift which can be recovered neatly and elegantly with no chassis or suspension after-shock or wobble.
Compared with the E3, the Gen-F does seem a little softer, at least initially. Don't get us wrong, it's no ocean cruiser, however, the controls seem more gentle and progressive rather than snappy. In other words, the E3 always felt like it was near the edge of its abilities, whereas the Gen-F gets up a shifting pace with much less effort. In that sense, it feels like you could produce quicker lap times in the Gen-F and you wouldn't have to build up a sweat doing it.
The Generation 3 Magnetic Ride Control suspension works well on less-than-ordinary country roads and feels tight and planted on smooth, twisty mountain roads. The third-gen suspension uses two coil springs per damper instead of the old single setup, which means the new system is able to respond twice as fast, according to HSV. It's a great setup, providing excellent support for the large sedan while still maintaining good ride comfort.
For the first time in a HSV, the driver can select between three essential driving modes via a special control knob on the centre console, fittingly named the Driver Preference Dial. Each setting makes adjustments to the electric power steering firmness, magnetic dampers, the bi-modal exhaust, and traction and stability control.
In the sportiest setting, the Preference Dial system allows some wheel slip and oversteer if you provoke it; it won't kick in until it thinks you're going too far. You can also turn the safety systems completely off for unbridled tyre smoke, if that's your thing.
HSV has improved the braking capacity and performance for the Gen-F. When we tested the previous-gen E3 Senator Signature last year, which was fitted with optional uprated brakes, they overheated. In this R8, the step up to AP racing brakes has certainly paid off. All Gen-Fs feature these multi-piston units, with the technology stemming from NASCAR and V8 Supercars.
They bite hard and feel strong and progressive. About the only thing wrong with them is the pedal; it sits a bit too high for easy heel-and-toe downshifts. The slightly awkward pedal gap is similar on the Commodore SS as well.
How much engine power is enough? With 340kW, there's not a moment where you think you could do with more. It's enough to push you right back into your seat as you reach to grab another gear. Low end grunt is fantastic, as you would expect from a 6.2-litre V8, with a forceful mid-range making each gear seem like it's over in a flash. Peak torque (570Nm) occurs at 4600rpm, giving further evidence of its mid-range focus.
Top end power is probably the engine's only minor drawback. It likes to rev out very quickly, but once it gets near the top it would prefer to haul through it again with another gear.
The noise from the bi-modal exhaust is loud enough to win over any V8 fan. There is an unusual mechanical sound as the muffler valve opens during higher revs, which we think makes the soundtrack seem a bit fake. Even though there is a bi-modal induction setup in the engine bay, most of the attractive V8 noise comes from the exhaust and not necessarily from a throaty induction sound. This is great for pedestrians, but perhaps the in-cabin V8 experience is not completely maximised here. Whinging aside, take a listen in the video below. You can hardly complain, right?
HSV Gen-F Clubsport R8 SV – THE VIDEO
HSV Gen-F Clubsport R8 SV – THE VERDICT
It's a well-rounded performance machine offering a superb balance of comfort, convenience, practicality, and outright awe-inspiring performance and chassis/suspension aptitude. It also has a layer of humour and larrikin in its blood, like a true Aussie muscle car.
For those who want a V8 muscle sedan that offers the best handling dynamics in the class, paired with the sophistication and technology of a modern vehicle, the Gen-F Clubsport is now the favourite sub-$80k machine. For this sort of money, you're getting a lot of car.
PROS:
– Tremendous grip levels, much more capable than the E3 predecessor
– Decent on-board technologies
– MyLink interface with HSV performance 'channel'
– Super comfortable and supportive seats
– SV adds fashionable black highlights

CONS:
– Not as loud as the E3; bi-modal exhaust flap makes a strange transition sound
– Doesn't seem as hard-edged or as sharp as the E3, better balanced though (good or bad thing)
HSV Gen-F Clubsport R8 SV – THE COMPETITORS
Chrysler 300 SRT8
6.4-litre naturally aspirated V8 – 347kW-631Nm – 13L/100km – 2012kg – from $66,000 (SRT8 Core $56,000)
FPV GT
5.0-litre supercharged V8 – 335kW-570Nm – 13.6L/100km – 1828kg – from $70,790