A new year, a new 2017 Trax for Holden, with the brand's littlest SUV coming in for some nip-and-tuckery. A sleeker new corporate front end now adorns the mini crossover, which means it no longer resembles a swollen knee with gout.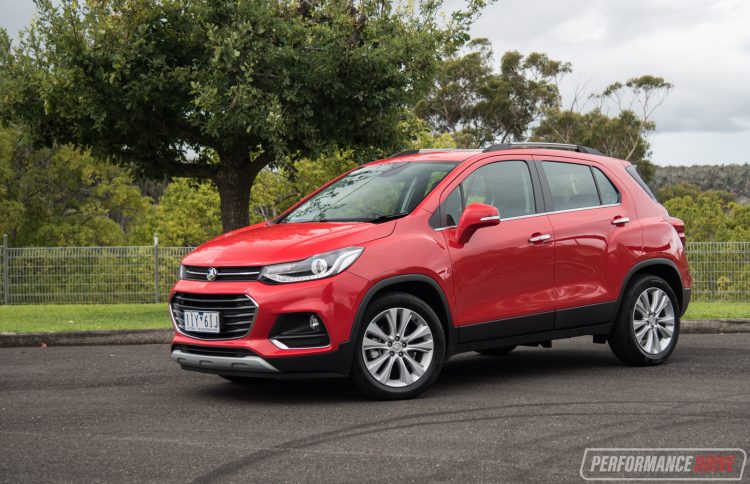 A significantly refreshed interior brings the Trax into line with the Astra. It is also sold as an Opel in Europe, so quality and family resemblance needs to be on point. A new interface with Apple CarPlay and Android Auto features on all variants from the $23,990 LS to the $30,490 LTZ tested here (excluding on-roads).
In terms of sales, the Trax has been up there since its debut, trailing only Mazda CX-3, Nissan Qashqai, Mitsubishi ASX and keeping competitive with the Subaru XV. In a segment brutally stacked with players, that is a real accomplishment.
What is the Trax like to live with in the real world, though? Is it a justifiable purchase against a scrum of highly-trained athletes?
2017 Holden Trax LTZ – THE SPECS
Engine: 1.4-litre turbo four-cylinder
Output: 103kW@4900rpm / 200Nm@1850rpm
Transmission: Six-speed auto
Drive type: Front-wheel drive
Wheels: F & R: 18×7.0, 215/55
ANCAP: Five stars (scored 35.18 out of 37)
Tare weight: 1390kg
Power-to-weight: 13.49:1 (kg:kW)
Official fuel economy: 6.7L/100km
Economy during test: 8.5L/100km
Fuel capacity/Type: 53L/95 RON
Power efficiency: 15.37kW:L/100km
0-60km/h: 4.16 seconds*
0-100km/h: 8.95 seconds*
1/8 mile: 11.11 seconds at 108.0km/h*
1/4 mile: 17.15 seconds at 133.0km/h*
100-0km/h braking: 3.08 seconds at 39.11 metres*
Decibel at idle: 46*
Peak decibel at 60-100km/h: 78*
Priced from: $30,490
* Figures as tested by PerformanceDrive on the day. Factory claims may be different

2017 Holden Trax LTZ – THE PACKAGE
The Trax is an upright, traditional tallboy-style SUV, with rear head and legroom benefiting most from this arrangement. This is at odds with some of the more coupe-like players, such as the Nissan Juke, Honda HR-V and Toyota C-HR.
It is 4257mm long, 1776mm wide, 1674mm tall and sits on a 2555mm wheelbase. The Trax is spun off the same GM platform as the Barina small car, with the earlier model offering distinct similarities inside. Many of those have been eliminated with this facelift.
Passenger space and comfort is rather good, without being outstanding, but a five-star ANCAP safety rating provides that extra level of reassurance. Adding to its versatility is a handy flip-up rear seat base, that allows the backrest to stow flat. Not quite as clever as Honda's HR-V 'Magic Seats', but still very handy for carrying large items.
While the interior has been majorly reworked for 2017, some things do grate. The top of the dash and door trims are finished in scratchy plastic, which is perfectly acceptable in the $13,990 Spark, but not in a $30,490 Trax LTZ in our opinion. While leather seats are offered, they is not of the highest quality and their impact is dragged down by the aforementioned plastics. The seats are neither electrically adjustable nor do they offer lumbar support, but the driver's armrest is a nice consolation prize; as are the single-setting seat warmers. On the subject of temperature, digital climate control is nowhere to be seen even on this top LTZ.
The instrumentation is also similar to what you'll find in the Spark, which is not an insult; they are clear white dials, augmented by a digital speedometer in the LCD trip computer display. Cruise control engages unobtrusively, but it is not adaptive. It's worth noting the base Toyota C-HR features adaptive cruise as standard. Rear cross-traffic alert and blind-spot monitoring are smart inclusions, making the car easier to manoeuvre in tricky driveways.
The infotainment system is the same you'll find in the base Astra R and Spark LT. While this is certainly not a bad thing in isolation, it is very user friendly and offers decent graphics, but the lack of satellite navigation in a range-topping small SUV is a nuisance, particularly with nowhere to hold your phone if you wish to use your own maps – Apple CarPlay and Android Auto can help this. LTZ customers are given a sliding sunroof.
Digital radio is an enjoyable companion but the sound emanating from the speakers trails Holden's other small cars for clarity and output if you like to crank up the volume. Other niggles include the driver's grab handle which feels like a sunglasses holder for kids' glasses, and the fact that manual customers are saddled with the ancient 1.8L Ecotec, and only with base LS spec.

2017 Holden Trax LTZ – THE DRIVE
The small SUV segment is full of talent, with the Mazda CX-3 and Toyota C-HR two of the best in the segment in our view. The Trax has a pretty tough task ahead of it then, especially considering its humble origins.
In its favour, the Korean-built SUV is relatively smooth most of the time, is composed over mid-speed bumps and reasonably stable. But there are quite a few things that get in the way of it being excellent to drive.
You get the impression Holden has tried to tried to give the Trax a sporty flavour with its steering and suspension tuning, which does not acquit itself well at all. For example, the suspension feels overly taut over bumps and low speed and the steering loads up with inertia just off centre. The rear suspension is also the least sophisticated setup available in a modern car. This makes the Trax quite nervous to drive around twisty roads. A slower steering rack would be more suitable for this application we think.
On the positive side, grip levels are more than sufficient and chassis engineers have done well to minimise bodyroll most of the time. Maybe these issues are less pronounced on the LS equipped with 16- instead of 18-inch wheels.
We have every confidence the Trax can handle emergencies with ease. It's just not very enjoyable. Another saving grace, though, are rather good brakes with a stopping distance from 100km/h in a respectable 39.11 metres in our tests.
Can the Trax claw back a win in the powertrain department? Well, the 103kW 1.4-litre turbo, also used in the Astra, is a unit we're quite familiar with, offering reasonable economy (we got around 8.5L/100km against a claimed 6.7), lag-free operation and smoothness up to a point. Bury your foot and it becomes an obnoxious little thing, like a wasp with a cold.
One thing that did surprise us is how much hustle is has when you do sink the boot. A 0-100km/h time of 8.95 seconds sure surprised us, as did its ability to gain momentum for a car of its nature.
Keen drivers may appreciate the gearing of the six-speed auto, but will be disappointed by the inclusion of a useless upshift/downshift button on the lever. A conventional gate might have been a more sensible inclusion.
Capped-price servicing at 15,000km intervals is a bonus and part of Holden's comprehensive after care and roadside assistance package.
2017 Holden Trax LTZ – THE VIDEO
2017 Holden Trax LTZ – THE VERDICT
We enjoyed the Trax's room, versatility, clarity of information from the dials and user-friendliness. But many things count against recommending the Trax over and above its modern rivals. The quality of materials used inside, the lack of satellite navigation or climate control, coarseness of the engine and erratic steering/handling are not befitting of a $30k flagship small SUV.
Driving manners are not up to scratch with the best in class. It feels as though Holden has tried to make a Reuben sandwich with mouldy bread.
It has an almost MPV-level of versatility but there are MPVs for that around the same price range (Kia Rondo). The thing is, Holden needs an exceptional range of cars to maintain the trust of Australians after local production finishes. Cars like the outstanding Astra and the vibrant, class-leading Spark.
The Trax has the family appearance down pat but it is not one of those cars. Its continued success will be a triumph of goodwill and marketing power rather than product strength. We're confident the next-gen model will be much better.
PROS:
– Five-star ANCAP safety rating; cross-traffic alert, blind-spot monitoring
– Good room for adults in the rear
– Handy fold-down/flip up rear seats
– Clear instrumentation
– User friendly infotainment system with smartphone mirroring
– New styling is a vast improvement, nice wheels
– Affordable service package
– Easy to park with good visibility

CONS:
– Scratchy materials on upper dash
– No climate control on top spec LTZ
– No satelite navigation
– Nervous steering off-centre
– Bumpy low-speed ride
– Noisy/coarse engine
– Faces superior rivals
As always, if you're thinking about buying a new car don't forget to click here to speak with our car buying specialists.