Honda has unwrapped its latest addition to its growing family of turbo vehicles. Introducing the Jade RS. It's set for a Japanese market release in a few days.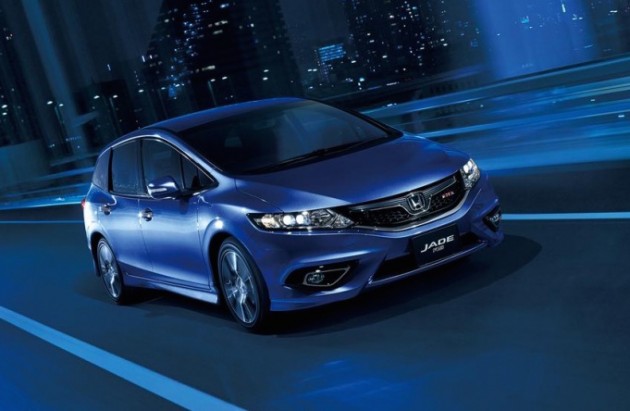 The Jade, not currently sold in Australia, is a seven-seat MPV version of ever-popular Civic, sitting slightly larger in dimensions to the local Honda Jazz.
Aside from the introduction of the 'RS' variant, the big news lies beneath the bonnet. It gets a brand-new 1.5-litre VTEC turbocharged engine. This is the second turbo-petrol engine to be announced from the company as it plans to improve overall showroom efficiency with new VTEC turbo units.
Honda claims the little unit generates a torque delivery equivalent of a 2.4-liter engine in the normal rev range while also offering quieter operation. Honda also says the engine achieves smooth and powerful driving even with multiple passengers on hilly roads.
The end result is a modest output of 110kW and 203Nm, while sipping a frugal 5.5L/100km on the combined cycle test. Power is transferred to the front wheels via a seven-speed automatic transmission, with shift paddles behind the steering wheel for added sportiness.
Bespoke to the RS is increased suspension rigidity, with a 15 per cent increase to the front and 20 per cent increase to the rear over the hybrid Jade variant.  Honda has also installed what it calls Agile Handling Assist (AHA) which uses brake vectoring technology to inspire driving confidence in the bends.
Inside, the RS can be optioned with either black or brown trimmings, with some added luxuries like a leather steering wheel and sports pedals as standard. There's also some red stitching for a sporty character.
There are no plans for the Jade RS to go on sale in Australia any time soon, but we should expect to see the new engine in local models in the near future.