This is it. The new Hennessey Venom F5. It's looking to claim the crown as the world's fastest production car ever made, promising a top speed of 301mph (485km/h).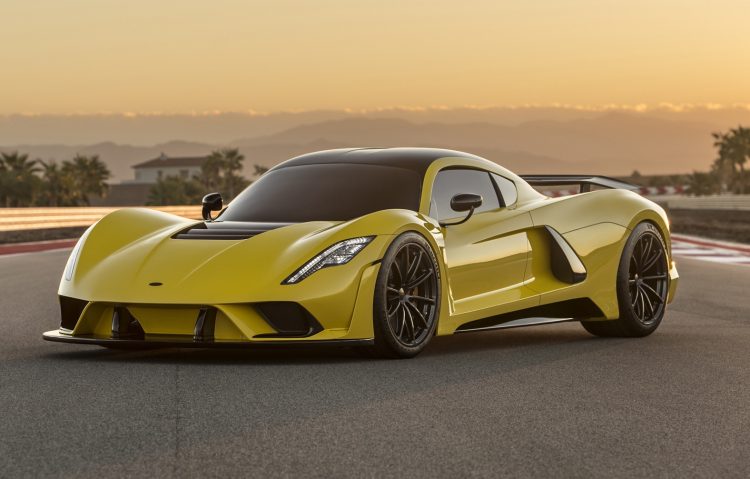 How does it aim to achieve this? Well, it's powered by a twin-turbo V8 engine that belts out a class-leading 1600hp (1194kW). That's more power than the Bugatti Chiron (1103kW) and more than the current top speed record-holding, 431km/h Veyron Super Sport (883kW).
Unlike the two Bugattis though the Venom F5 uses rear-wheel drive, via a single-clutch automated seven-speed manual. Without all-wheel drive and a heavy dual-clutch transmission the Venom F5 is able to tread very lightly on the road, with a kerb weight of just 1338kg.
Hennessey projects a 0-300km/h time of below 10 seconds, and a 0-400-0km/h time of under 30 seconds. These will be some incredible numbers if they turn out to be accurate in the real world. John Hennessey, company founder and CEO, spoke of the new model in a statement, saying:
"We've designed F5 to be timeless so that in 25 years it will still have a level of performance and design that will be unmatched. The F5 is an all new car, designed and built from the ground up, from the engine to the chassis. We expect the Venom F5, named for the most powerful tornado speed winds on the Fujita scale, to be the first road car capable of achieving more than 300 mph and have worked closely with Pennzoil to get us across the finish line."
In terms of the design, it looks like it's from outer space. At the front is a super low splitter that scoops air up and over the roof, while at the rear is a big wing mounted on, what appear to be, hydraulic struts. There's also a trio of exhaust tips in the middle giving it a real spaceship look.
Hennessey Performance is planning to build just 24 examples of the Venom F5, with prices starting at US$1.6 million. The company is known for its aftermarket kits for vehicles such as the Ford Mustang and Ford GT, but the company is also a manufacturer and builds its own vehicles. The predecessor to the F5, the Venom, was based on a Lotus platform albeit very heavily modified and stretched. Take a look at the promo video below for some driving footage.