Hennessey will unveil the 2016 Venom GT update at the SEMA show this week, bringing even more power to the Lotus-based hypercar.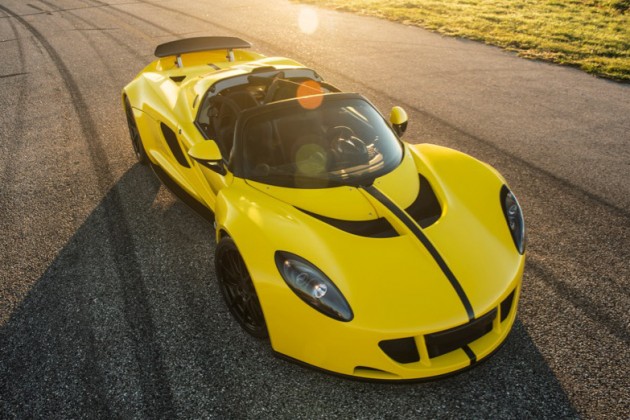 The 2016 model will come with a tweaked version of the current 7.0-litre twin-turbo V8. Engineers have developed a new engine management system which allows the car to run on E85 fuel. With the fuel, turbo boost pressure is increased from 19psi to 26psi.
As a result, engine output sits at a mental 1082kW, up from the outgoing 928kW output. Considering the current version has already clocked an official 435.1km/h top speed, the new model is likely to trump that and become the world's fastest production car.
Hennessey claims the changes allow for a 0-60mph (97km/h) time of just 2.4 seconds, 0-160km/h in 4.4 seconds, and a 0-300km/h time of just 10.9 seconds. A quarter mile of just 9.4 seconds has also been claimed. This is all helped by a low kerb weight of 1244kg.
These changes will be the last for the current shape before an all-new model, dubbed the Venom F5, is introduced over the next couple of years. It's expected to be just as powerful if not more powerful than the Venom GT, with an increased focus on handling and track performance.