Say hello to Australia's new quickest ever production sedan; the Gen-F HSV GTS. This bad boy, with its LSA supercharged Chevrolet power plant, is able to cover 0-100km/h in just 4.4 seconds.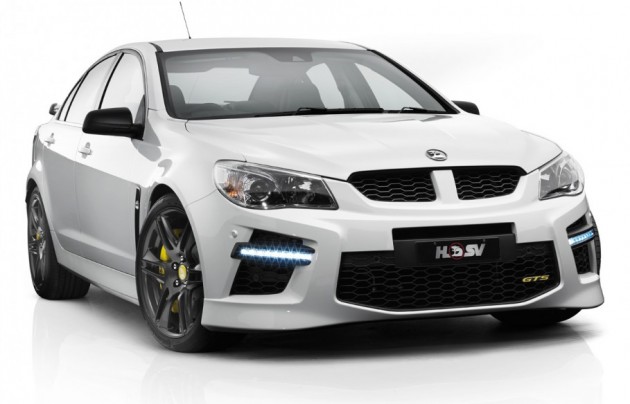 Powering the new beast is a 6.2-litre supercharged V8 engine producing a colossal 430kW and a meaty 740Nm of torque. The engine is taken from the highly strung Chevrolet Camaro ZL1 in the US. It can be matched up to either a six-speed manual or automatic transmission.
For the first time in an Australia sedan, the GTS comes with an advanced new torque vectoring rear end which is capable of distributing torque between the left and right wheels depending on which way you are turning, and how much traction is available. In other words, there's technology underneath that helps pivot the GTS around corners while under any amount of throttle.
Not only that, the rear end of the GTS is drastically revised over any other VF Commodore, with a bespoke subframe and suspension layout, chunkier drive shafts to handle all of that torque, and alloy wheel hubs. A full magnetic ride control set of dampers sit under there as well.
In terms of outright performance, the new GTS has the potential to really stick it to the Germans when it comes to high performance sedans. HSV says 0-100km/h comes up in an entirely believable – considering 430kW – 4.4 seconds, while the quarter mile is covered in 12.3 seconds. This puts it very close to the near-$230,000 BMW M5 (4.3 seconds/11.8-12 seconds).
Of course, the GTS isn't quite as advanced as the German rivals (an average fuel consumption is yet to be announced), however, it does come with all of the modern technology available to Holden and Chevrolet, with a comprehensive multimedia 'MyLink' interface with sat-nav, and a full leather interior with big bucket seats.
Even though the future of Ford Australia is in tatters, let's hope the blue oval can come up with one more extreme muscle sedan to give all the fans one last Aussie face-off with the GTS. At the moment, the GTS easily trumps the 335kW/570Nm FPV GT.