The upcoming Ford Everest has apparently gathered the interest of over 11,000 potential buyers, according to the local arm.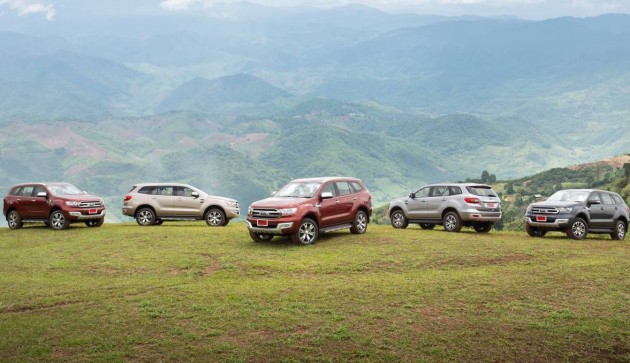 Ford Australia says the Everest is the company's second most popular vehicle searched on its website, behind the Ranger ute on which it is based. Over 11,000 punters have also "flagged" interest. And that's before it has even arrived on sale, taking place in "days", Ford says.
The Everest will eventually step in to replace the dwindling Territory. It will be interesting to see if the new model will be able to recoup some of the initial popularity of the earlier generation Territory models.
Unlike the Ford Territory though, the Everest is set to be an actual 4×4 with useable off-road ability. While the Territory scraps its belly on the mere hint of rugged terrain, the Everest promises to – specifically – out-do even the Toyota Prado when it comes to off-roading.
Ford Australia seems to be quite threatened by Toyota lately, often attacking the Japanese brand in local TV advertisements – known as an amateur move in the world of marketing and advertising.
The Everest will offer a ground clearance of 225mm over the Prado's 220mm. The Everest also offers an approach angle of 29 degrees versus the Prado's more favourable 32 degrees, and a departure angle of 25 degrees compared with the Prado's 24 degrees. In a statement, Ford president and CEO Graeme Whickman said,
"We're aware of the competition in the market for this level of vehicle so we're focused on delivering a broad message across various platforms to put the Everest SUV on customers' shopping lists."
So far this year (through August) Ford Australia has sold 6415 examples of the Territory, quite down on Toyota's 9779 effort for the Prado. Territory sales have dropped from 6762 during the same period in 2014, and down further from the 9309 figure in 2013. Overall Ford sales have also taken a dive in the same eight-month period, declining from 57,459 in 2013, to 55,360 in 2014, to just 45,911 this year. The pressure is certainly on for the US-based brand.